1/1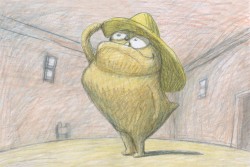 ---
HOT DOG
NY Premiere
United States, 2008, 6 min
Festival Year:2008
Category:Animation
Crew:Producer: Biljana Labovic - Editor: Biljana Labovic - Cinematographer: Kerri Allegretta - Original Score: Corey A. Jackson - Music: Corey Jackson, Maureen McElheron, Hank Bones
Sales:Bill Plympton, Director - New York, NY 10001 - T: (212) 741-0322 - F: (212) 741-5522
Email:plymptoons@aol.com
Synopsis
A plucky hero becomes a fireman in order to save the lives and gain the respect he deserves. Hot Dog is the third film in the "DOG" series.
Trailer
About the director
Bill Plympton is considered the King of Indie Animation and is the only person to hand draw an entire animated feature film. In 1987 he was nominated for an Oscar® for his animated short "Your Face". In 2005, Bill received another Oscar® nomination, this time for a short film "Guard Dog". "Push Comes to Shove" another short film, won the prestigious Cannes 1991 Palme d'Or. After producing many shorts that appeared on MTV and Spike and Mike's, he turned his talent to feature films. Since 1991 he's made 9 feature films, 6 of them, "The Tune", "Mondo Plympton", "I Married A Strange Person", "Mutant Aliens", "Hair High" and "Idiots and Angels" are all animated features.
Bill Plympton's filmography
Notes
Director Bill Plympton will be available for Q&A after the screening.
Related links