1/1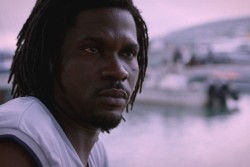 ---
PANMAN, RHYTHM OF THE PALMS
NY Premiere
Netherlands Antilles, 2007, 90 min
Shooting Format:35mm
Festival Year:2008
Category:Narrative Feature
WINNER: Best Original Score
Cast:Ian Valz, Gary gee Money Euton, Liesbeth Kamerling, Earl Duzong, Rita Gumbs
Crew:Producers: Ian Valz, Norman de Palm - Screenwriter: Ian Valz - Editor: Chris van Oers - Cinematographer: Sal Kroonenberg - Original Score: Bart Westerlaken - Sound: Gideon Bijlsma
Sales:Ian Valz, Producer - St Maarten Independent Theatre Foundation - 34 Goldfinch Road, Pointe Blanche, St Maarten - Tel: +599-580-5200
Email:ianvalz@yahoo.com
Synopsis
"Panmans" tells the story of the rise and fall of the steel drum pan player Harry Daniel. Harry is an icon of the Caribbean whose personal life suffers when he places his music above his family, for he is desperate to pass the pan culture to a younger generation. During this crusade to keep the music alive on his beloved island of St. Martin he meets the exceptionally talented Jacko who becomes his star apprentice and hope for the future. Harry treats him like the son he never had, but when Harry's fame begins to diminish, Jacko turns against him and embraces instead the world of electronic based music. When Harry dies unexpectedly, Jacko returns to his island culture to become pan music's brilliant new icon.
Trailer
About the director
Sander Burger is a talented young Dutch director credited with the films "Oliver etc," "Koen," "Ons Waterloo" and now "Panman, Rhythm of the Palms." He is a graduate of the Dutch Film Academy and is very interested in presenting films of the third world, especially the Caribbean. "Panman" is his biggest film to date.
Notes
Actor Ian Valz will be available for Q&A after the screening.
Related links