1/1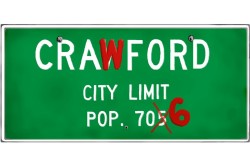 ---
CRAWFORD
NY Premiere
Director: David Modigliani
Crew:Producer: David Modigliani, - Editor: Matt Naylor - Cinematographer: Deborah Eve Lewis, Cary McClelland, Ryan Pavelchik, Keith Wilson - Original Score: David Rice - Sound: Mike Dolan, Reif Larsen, David Bewley, Diane Zander - Associate Producers: Emily Harrison, Matt Naylor, David Rice - Assistant Producer: Tanya Schurr - Project Advisor: Lindsay Stillman
Sales:Josh Braun, Sales Rep - Submarine Entertainment, 132 Crosby St., New York, NY 10012 - T: 212-625-1410
Email:josh@submarine.com
Synopsis
What happens to the 705 residents of Crawford, Texas when George W. Bush moves to town? Shoved into the spotlight for political stagecraft, their insular town explodes overnight. Droves of tourists buy t-shirts at brand new stores; the high school band plays at the inauguration; their Baptist pastor calls it a miracle. But by 2004, the Iraq war sours and in 2005 the President's problems follow him home in the person of Cindy Sheehan. As 20,000 protesters battle in Crawford's backyards, political conflict mounts in the town itself, pushing a progressive teacher and her best student to the brink -- and beyond. Soon, tourists stop coming; stores get boarded up; Crawford's boom goes bust, like the Presidency itself. Now, through the eyes of Crawford's colorful, dynamic people, comes a funny, dramatic, breakthrough film -- a unique reflection on the Bush era.
Trailer
About the director
David Modigliani makes film and theater at the intersection of the personal and political. Texas Monthly recently named him one of the four "next great Texas directors." Modigliani recently concluded his three-year fellowship at the Michener Center for Writers with the Austin production of his play, WIRELESS-LESS (nominated by the Austin Critics Table for "Best New Play.") He has a BA from Harvard University and an MFA from UT Austin. CRAWFORD is his first feature documentary.
Notes
Director David Modigliani and Associate Producer Emily Harrison will be available for Q&A after the screenings.
Related links