1/1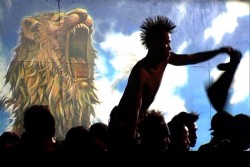 ---
PANG NAT DET
(Punk im Dschungel / Punk Not Dead)
US Premiere
Crew:Producer: Christian Drewing - Screenwriter: Andreas Geiger - Editor: Jürgen Winkelblech, Andreas Geiger - Cinematographer: Bernadette Paassen, Henrik Peschel - Sound: Patrick Veigel
Sales:Mette Gunnar, Eikon Südwest GmbH, Ludwigstr. 73a, 70176 Stuttgart, Germany - T: +497112483455
Email:info@eikon-suedwest.de
Web:punkfilm.com
Synopsis
In Indonesia, one of the largest Islamic countries in the world, kids are punking out, and the motto isn't NO FUTURE, but DIY- DO IT YOURSELF. An aging punk band from the backwaters of Southern Germany called CLUSTER BOMB UNIT begins their Indonesian concert tour in Jakarta and discovers that in Southeast Asia, punk is far from dead - it is in fact a huge youth movement.
Trailer
About the director
Andreas Geiger (1969) studied film at the Filmakademie Baden-Württemberg. His previous films include "Heavy Metal auf dem Lande" (2006) about Donzdorf, a quiet German mountain village that is home to Nuclear Blast Records, the largest independent Heavy-metal label in the world.
Notes
Patrick Veigel will be available for Q&A after the June 7th screening.
Related links