1/1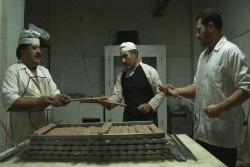 ---
TEHERAN KITCHEN
US Premiere
Director: Pola Schirin Beck
Crew:Producer: University of Film and Television HFF Konrad Wolf - Screenwriter: Pola Schirin Beck - Editor: David Wnendt - Cinematographer: Thomas Moritz Helm - Original Score: Majeed Qadianie - Sound: Johannes Peters
Sales:Cristina Marx, Festival office - University of Film and Television Konrad Wolf - Marlene-Dietrich-Allee 11, 14482 Postdam, Germany - T: +49 3316202 564
Email:distribution@hff-potsdam.de
Synopsis
What's it like in a student canteen in Teheran (Tehran, Iran) anyway? Between 600 kebab a day and nagging students, we find three cooks and a kitchen helper working in a small space. With wit and irony, they shop in the market and cook in the kitchen, philosophizing about food and about life in general. This is an unpretentious microcosm where we learn more in private moments about interesting views on life. And still there is more that makes this place special.
Trailer
About the director
Pola Schirin Beck was born in Berlin in 1982. After various jobs and directing internships in the film industry, she spent a year at the international European Film College in 2003. She took up studies in directing at the "Konrad Wolf" College of Film and Television Potsdam- Babelsberg in 2005 and also works as a portrait photographer.
Notes
Esther Löwe will be available for Q&A after the screenings.
Related links