1/1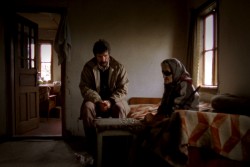 ---
FIRST DAY OF PEACE
(Prvi Dan Mira)
East Coast Premiere
Bosnia and Herzegovina, 2009, 15 min
Shooting Format:Super 16
Festival Year:2010
Category:Narrative Short
Cast:Rajko Rucnov, Rodoljub Burazor, Milan Rajcevic, Milja Kaurin, Mile Grbic, Senka Rucnov, Sivac
Crew:Producer: Sonja Rucnov - Executive Producer: Nebojsa Zgonjanin - Co- Producers: Shrihari Sathe and Mirko Rucnov - Screenwriter: Mirko Rucnov - Editor: Mirko Rucnov - Cinematographer: Rolf Dekens - Sound: Tim Korn
Sales:Mirko Rucnov - NY, NY 10026 - T: 7023742163
Email:mirkorucnov@gmail.com
Synopsis
The story takes place during the civil war in Bosnia. It follows Marko, a middle-aged peasant, who decides to plow his land at the disputed border on the day a peace agreement is announced. While scattered and "friendly" gunfire echoes from both sides, Marko's simple human action brings a moment of harmony to a land torn apart by the madness of this war...
Trailer
About the director
Mirko Rucnov, who is originally from Bosnia, graduated with Honors from Columbia University Graduate Film School in May 2009. "First day of Peace" is his thesis film. Currently, he is preparing the ground for his first feature film, "Mother".
Notes
Producer Sonja Rucnov and Director Mirko Rucnov will be available for Q&A after the screenings.
Related links