1/1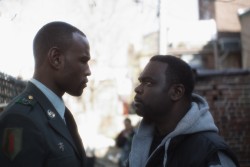 ---
COST OF A SOUL
East Coast Premiere
Director: Sean Kirkpatrick
United States, 2009, 109 min
Shooting Format:RED
Festival Year:2010
Category:Narrative Feature
Cast:Chris Kerson, Will Blagrove, Mark Borkowski, Judy Jerome, Gregg Almquist
Crew:Executive Producer: Sean Kirkpatrick - Producer: Edward J. Eberwine III, Sean Kirkpatrick, Jonathan Risinger - Screenwriter: Sean Kirkpatrick - Editor: Jonathan Risinger - Cinematographer: Chase Bowman - Original Score: Rodney Whittenberg - Sound: Wil Masisak - Production Designer: Michael Crenshaw
Sales:Sean Kirkpatrick - Valley Village, Ca 91607 - T: 484-995-9902
Email:seankirkpatrick7@gmail.com
Synopsis
Cost of a Soul captures the struggle of two wounded veterans who return home from Iraq to find themselves trapped in the war-zone of the slum neighborhood they joined the military to escape. This gritty urban drama about Irish hitmen facing off against African-American gangsters is set on the mean streets of Philadelphia. Cost of a Soul is a cathartic, stark examination of the endless cycle of violence and retribution.
Trailer
About the director
Writer/Director Sean Kirkpatrick was born and raised just outside of Philadelphia, PA. He is a Film Graduate of the Pennsylvania State University and a true artist in every sense. Cost of a Soul is Sean's feature film directorial debut.
Notes
Director Sean Kirkpatrick, Producer Edward J. Eberwine III, and Cast & Crew will be available for Q&A after the screenings.
Related links