1/1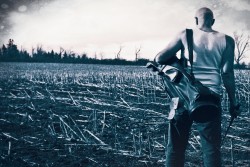 ---
STONEY
NY Premiere
Director: Jacob LaMendola
United States, 2009, 15 min
Shooting Format:RED
Festival Year:2010
Category:Narrative Short
Cast:Tom Noonan, Wendy Hammer, Anthony Deanzeris, Meryl Williams
Crew:Producer: MaryBeth Minthorn - Screenwriter: Jacob LaMendola, Adam Newport-Berra - Editor: Jacob LaMendola - Cinematographer: Adam Newport-Berra - Original Score: Estas Tonne - Art Director: Adam Abada
Sales:Jacob LaMendola - New York, NY, 10009 - T: 201.707.2740 - F: 201.707.2740
Email:jacoblamendola@gmail.com
Synopsis
A man goes through Hell to kill a mouse.
Trailer
About the director
Jacob LaMendola is a filmmaker from New York. He has no sense of smell. He is currently writing his first feature film, and encourages you to introduce yourself.
Notes
Director Jacob LaMendola and Producer Marybeth Minthorn will be available for Q&A after the screenings.
Related links