1/1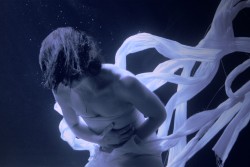 ---
NOISE
US Premiere
Germany, 2010, 24 min
Shooting Format:RED
Festival Year:2010
Category:Experimental
Cast:Natalie Loader, Duncan Wigman
Crew:Executive Producer: Benny Drechsel - Producer: Rohfilm - Screenwriter: Esther Löwe - Editor: Anja Keysselt - Cinematographer: Sven Jakob - Sound: Johannes Scherzer, Esther Löwe - VFX Supervisor: Frederik Grytzmann
Sales:Esther Löwe - Berlin, Germany - T: +49 1786674033
Email:estherloewe@gmail.com
Synopsis
Caroline encounters a young man in a cinema and accepts his invitation to meet. During a subsequent graffiti session the two of them are ambushed by a gang. She manages to escape. He does not. Later, she sits alone in her flat, surrounded by a baby's cries. It appears that, driven, she has never stopped fleeing, never succeeded in wresting herself free of the past.
Trailer
About the director
Born and raised in Zimbabwe, Esther Löwe left at the age of eleven to attend a specialist music school in Weimar, Germany. After studying composition at the Berlin University of the Arts, she went on to complete a degree in film sound and music at the Film & Television Academy (HFF) 'Konrad Wolf' in Potsdam-Babelsberg in April 2009. NOISE is the prologue to a feature-length coming-of-age drama which Esther is currently developing, having already written the script. Two experimental short films which she will be shooting later this year are now in preproduction. She is also working on a feature-length social drama about three gangster brothers, a script writer for which has yet to be found. NOISE is her directing debut.
Filmmaker's note
NOISE is originally produced for and mixed in the innovative 3D sound system IOSONO. In July selected audiences will be able to see and hear NOISE in its actual format (D Cinema and IOSONO sound in the Mann's Chinese 6 Theatre in Hollywood).
Notes
Director Esther Löwe will be available for Q&A after the screenings.
Related links