1/1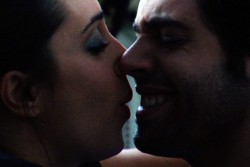 ---
CLUBSCENE: THE BARTENDER
World Premiere
Director: Adriano Valentini
Cast:Carmine DiBenedetto, Christina Broccolini
Crew:Producer: Adriano Valentini, Christina Broccolini - Screenwriter: Adriano Valentini - Editor: Adriano Valentini - Cinematographer: Clayton Combe - Featured Music: Danny D - Unit Production Manager: Daniele Valentini - 1st Assistant Director: Alex Coccia - 1st Assistant Camera: Marcos Herrera - Sound: Estefania Szrengiel - Art Director: Maggie Levin - Script Supervisor: Brendan Butler - Gaffer: Russel Burger
Sales:Adriano Valentini - 48 Dolman St., Stoney Creek, ON, L8J-2P2, Canada - T: 647-201-2848
Email:adriano@adrianovalentini.com
Synopsis
Gabe the bartender finds himself caught up in a conversation about sex and friendship with a beautiful, mysterious girl. Before he knows it, he's pulled into a twisted game of seduction and must answer the ultimate question - can guys and girls really be just friends?
Trailer
About the director
Italian-Canadian filmmaker Adriano Valentini graduated from New York University's Tisch School of the Arts with a BFA in Film and Television Production in 2008. While at NYU, Adriano wrote, produced and directed his thesis film, "CLUBSCENE" - which was awarded the Screenwriting Award and Wasserman/King Finalist Award at NYU's First Run Film Festival and was invited to the Manoogian Screenings at the Director's Guild of America Theater in Los Angeles. Following the success of CLUBSCENE, Adriano continued exploring the film's characters with the two companion pieces - "The Bartender" and "The Under-Ager" and is currently developing the concept into a television series.
Notes
Adriano Valentini and Christina Broccolini will be available for Q&A after the screenings.
Related links