1/1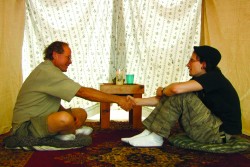 ---
OUR HOUSE
US Premiere
Director: Greg King & David Teague
Cast:Dan Taylor, JP Ross, Derek Bloom, Monica Donaldson, Neil Gynther
Crew:Producer: Greg King - Editor: Greg King and David Teague - Cinematographer: Greg King and David Teague - Original Score: Jason Noble - Sound: Alex Noyes
Sales:Greg King - Los Angeles, CA 90027 - T: 646-303-6675
Email:ourhousethefilm@gmail.com
Synopsis
On Dan Taylor's first day out of prison he had nowhere to go, and faced one of the most important choices of his life: to return to his past of drug addiction or to try for something better. Through a chance encounter the next day, he met Derek, a young Christian anarchist, who invited him to move into a new and very unusual community in Brooklyn. Called "Our House," it was an alternative to the impersonal shelter system, providing the homeless a safe place where everyone lived communally (and illegally) in an abandoned Williamsburg warehouse. Besides a roof and healthy food, Dan also found new friends, a spiritual haven in a makeshift 'prayer tent,' and the hope of putting his life back together. But when the building is set for demolition to make way for luxury condos, Dan and the other residents must confront the inevitable end of their community and what that will mean for their futures.
Trailer
About the director
David Teague recently edited Cynthia Wade's documentary 'Freeheld', which won the 2008 Academy Award for Best Documentary Short Subject and the Special Jury Prize at the 2007 Sundance Film Festival. He directed the documentary 'Intifada NYC', which had its World Premiere at the 2009 Big Sky Documentary Film Festival, and its NY premiere at the Brooklyn Arts Council's 'Scene: Brooklyn' Film Festival. David recently directed the feature film 'Love Suicides' and has shot and edited numerous short films that have been featured at the Cannes Film Festival, the Berlinale, and the Tribeca Film Festival.
Greg King has created numerous experimental films that have shown widely, such as with the Ann Arbor, Edinburgh, and Rooftop Film Festivals. He recently directed, shot and edited the dance film "chloes" (co-created with choreographer Lea Fulton), which premiered at the 2010 Dance on Camera Film Festival in New York. His film cycle "Rotating Mirror" received a Jerome Foundation Media Arts Grant. For twelve years he toured with the band "rachel's", and projected original films to accompany their live performances. He recently edited the documentary "The Fair Trade", and was an associate editor on the feature film "The Speed of Thought".
Notes
Greg King and David Teague will be available for Q&A after the screenings.
Related links