1/1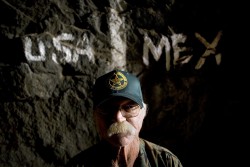 ---
THE MINUTEMEN MOVIE
World Premiere
Director: Corey Wascinski
WINNER: Grand Chameleon Award and Best Documentary
Cast:Robert 'Lil Dog' Crooks, Jeff 'El Jeffe' Schwilk, Christie 'Minutemom' Czajkowski, Max 'Mad Max' Kennedy, Dick 'The Sheriff' Buck, Chris Simcox, J. D. Hayworth, Isabella Garcia, Enrique Morones
Crew:Producer: Nicholas Weissman, Corey Wascinski - Editor: Nicholas Weissman - Cinematographer: Corey Wascinski - Sound: Corbin Sound
Sales:Nick Weissman - Brooklyn, NY 11206, USA - T: (818) 219.0111
Email:nick@weissmanstudio.com
Synopsis
In 2005, the Minutemen positioned themselves along the U.S./Mexico border. Dissatisfied with the influx of undocumented immigrants and fed up with the lack of government involvement, they are armed, energetic, and bound by common ideals. One section of this diverse, often fragmented group of disillusioned freedom fighters is led by a modern day Don Quixote: Lil' Dog and his four-legged companion Freckles. Zealous and often comical, these subjects embark into what many believe to be the realm of vigilantism. This cinema verite' documentary follows nine of these eccentric, self-appointed watchdogs, as they fight for their sovereignty as well as their own psyches in an isolating and dangerous landscape. Filmed over the course of four years, we examine the reasons and the relationships between these conflicted patriots.
Trailer
About the director
As a first generation immigrant from Poland, and one of the first in his family with the opportunity for a higher education, Corey Wascinski pursued his passion for photojournalism and non-fiction/documentary storytelling at Brooks Institute of Photography. He honed his skills by shooting and producing documentary photo essays, multimedia projects, and short form films. While covering a story near the Mexican border, he stumbled upon a character who summed up the struggle of the American patriot against the rising issue of illegal immigration. Intrigued by the politics and lifestyles of the extreme American patriot, he spent the next three years embedded, covering the phenomenon that is "Minutemen". The Minutemen is Corey's directorial debut.
Notes
Director Corey Wascinski and Producer Nicholas Weissman will be available for Q&A after the screenings.
Related links