1/1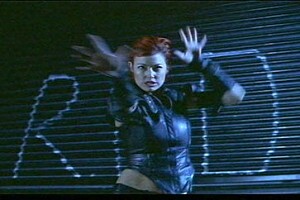 ---
OPERATION MIDNIGHT CLIMAX
World Premiere
Director: Will Keenan & Gadi Harel
United States, 2002, 78 min
Shooting Format:Super 16
Festival Year:2002
Category:Narrative Feature
Cast:Will Nitch: Will Keenan - Kali Bond: Caron Bernstein - Chip: Michael Showalter - Hugh T. Franklin: Michael Musto
Crew:screenwriter: Will Keenan & Gadi Harel - executive producer: Timothy Franklin - cinematoprapher: William M. Miller - editor: Gino Foster - original score: Quentin Chiappetta
Sales:Hoverground Studios
Email:OMC@hoverground.com
Synopsis
If you asked Will Nitch, he would eagerly give you evidence of a mysterious world operating just below the surface of our day-to-day existence - a world of cover-ups, dark conspiracies, and hidden agendas. But unlike many people who suspect that things may not be what they seem, Will can no longer sit idly by. He has formed his own plan for change. The plan may be breathtaking in scope, but it all really boils down to one thing: women. Lots and lots of women.

Of course this is not something he shares with Kali Bond, his girlfriend and "significant bother." He keeps it vague, avoiding saying things like "I'll come by your place later because first I need to go out and organize a secret society of women to counter the global conspiracy against them, the sea of lies that all other lies run to, to create the all-female equivalent of the notorious Skull & Bones Society, rumored to boast Supreme Court Justices, U.S. presidents, and historical figures among its ranks" He also fails to mention things like: "In order for these women to fully evolve and become the powerful beings they can be, we must all practice tantric sex all the time." Things like that he keeps to himself.

With less than two days before revealing OMC - the first phase of his project - there's a lot to be done, including getting the word out to all the right ladies, hiding from mysterious black-suited men, stopping his friend Demetria from marrying, researching foreskin reapplication, changing disguises often, making sure every last detail is taken care of, avoiding Kali and her meddlesome ways, and last but not least, managing to stay in one piece. As OMC approaches, the forces that Will has set in motion threaten to spin out of his control. But by now he has no alternative. He has to see his ambitious project through to the end. Even if it means his own.

Operation Midnight Climax is a unique live-action comic book synthesis of Golden Era stunt-comedy and our paranoid, seductive, chaotic 21st century world in which interviews, documentary segments and recorded phone calls are all woven together within the narrative structure.
About the director
Will Keenan: has been involved with over 25 films in varying capacities such as Actor, Producer, Director, Writer, Casting Director, StuntMan/Choreographer and founded Hoverground Studios with Timothy Franklin in '99. Notable projects include: Good Machine's LOVE GOD, Fine Line's TRICK, GoKart/HGS' INTO THE NIGHT:THE BENNY MARDONES STORY, Troma's TROMEO&JULIET and TERROR FIRMER, TLA's WAITING, Passport Pics' MARGARITA HAPPY HOUR, CineBlasts' THE LOVE MACHINE, New Line's MOST WANTED, Regents' WOLVES OF WALLSTREET, Henry Jaglom's FESTIVAL AT CANNES, and Carter Smith's upcoming doc DISFUNCTIONAL COMFORTABILITY (a.k.a. F*!K ROME!).

Gadi Harel: Since graduating from NYU, Gadi has apprenticed for a private eye, reported for the New York Observer, penned episodic work for The Learning Channel, and had a design career with clients ranging from GQ to Troma Entertainment. OMC is Gadi's debut as a feature film director and producer.
Filmmaker's note
"IT'S WILD, WEIRD FUN AND I LOVE IT!! Will Keenan is the god of the no-budget indie...one of those actors who is entertaining and funny even when he is doing absolutely nothing. OMC is the perfect showcase for Keenan's acting abilities and bizarre sensibilities. If I had balls I would have made this movie!" -Chris Gore, Filmthreat

"OPERATION MIDNITE ROCKS!! A solid and distinguished debut from Will Keenan and Gadi Harel. Keenan could be the next Jim Carrey." -Mary Glucksman, Filmmaker Magazine
Related links