1/1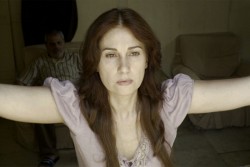 ---
GEHENNAH
(Ge.hen'nah)
East Coast Premiere
Cast:Christine Choueiri, Boutros Rouhana, Khitam Laham
Crew:Producer: Ephrem Kossaify - Screenwriter: Ephrem Kossaify - Executive Producer: Rocio Lopez - Cinematographer: Saro Varjabedian - Original Score: Ippei Inoue & Brady Hearn - Editor: Mauro Mueller - Sound: Myriam Chayeb - AD: Deb Shoval - Production Designer: Joseph Honein - Camera Operator: Farah Kassem
Sales:Mauro Mueller - Swizzo Films, New York, NY 10027, U.S.A. - T: 314 4489014
Email:maumueller@gmail.com
Synopsis
Ge.hen'nah is a drama set in a small rural town in Lebanon. Yvette is past thirty, unmarried, devoutly religious and still living with her parents. She is preparing to go to a retreat, a dream come true for her. However, as the bus approaches, a fight breaks out between her parents. She tries to intercede, but her father's rage is overwhelming. How far would you go to protect your mother?
Trailer
About the director
Mauro Mueller is a young independent filmmaker who grew up in Zurich, Switzerland. He is a merit scholar and teaching assistant for Richard Peña at Columbia University where he is pursuing his MFA in Film Directing. He is a recipient the Film Network Fellowship and the Film Program Merit Scholarship, the Phi Kappa Phi Fellowship, and the Outstanding Student in Video award from the University of Missouri - St. Louis. He is currently living in New York, working as a screenwriter and director, and developing his thesis film as well as the feature for Ge.hen'nah.
Filmmaker's note
In my work, I investigate human behavior and I particularly emphasize on cultural behavior. In many countries, individual rights are still not decoupled from communal or domestic obligations. Ge.hen'nah addresses the topic of self-sacrifice and patriarchal domination. It focuses on the patriarchal structure of many families in Lebanon and other countries around the world. Even outside the boundary of domesticity, women are often denied an autonomous public voice or space in negotiating their gender-specific needs. The idea of equal rights is fairly new in the context of human history but artists have always pushed the liberal ideas and I certainly want to continue this trend in my work. In Ge.hen'nah, Yvette is trapped in the house of her parents, and she does not have the right to lead the life she wants to lead. It is clearly a suppression of freedom. Moreover, Yvette relinquish her personal life and well-being for the sake of her mother and the cause. We shot the film after almost one year of pre-production last summer in a small rural town called Bejjeh, 30 minutes north of Beirut, Lebanon. With the help of an amazing crew, lots of enthusiasm, energy and sweat, and much support and love from the local people in Lebanon, we were able to tell this story that we felt was so important to tell.
Notes
Director Mauro Mueller will be available for Q&A after the June 13th screening.
Related links