1/1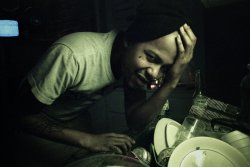 ---
TEARDROP
World Premiere
Director: Damian John Harper
Germany, 2011, 14 min
Shooting Format:Super 16
Festival Year:2011
Category:Narrative Short
Cast:Neal Kodinsky, Damion Omar Lee, Connor J Smith, Julio Cesar Pérez, Ron Braunstein, Glenn Fleary, Justin Harris, Neev Bar-David, De-Anne Dawkins, Vito Baltrusaitis
Crew:Screenwriters: Damian John Harper - Cinematographer: Friede Clausz - Composer: Tina Rupp
Email:zealhate@yahoo.com
Synopsis
One afternoon Dan is brutally jumped and accosted by a gang in his neighborhood. The leader of Dans crew demands that he murder his punisher and thus officially earn his 'membership' into the crew: a teardrop tattoo under his right eye. Dan stands at the most important crossroads in his life, will he kill to be a member or risk walking alone?We see the film through Dans eyes and know what he experiences but do we know Dan?
Trailer
About the director
Damian John Harper was born in 1978 in Boulder Colorado, USA. After he finished his B.A. in Anthropology he worked as an ethnologist in southern Mexico and as an under water cave dive instructor in Brazil. In 2006 he started his studies in the department of documentary film and advertising direction at The University of TV and Film in Munich Germany. Damian describes himself as a film maker, photographer and damn good father.
Filmmaker's note
I want TEARDROP to confront viewers head-on with the merciless violence that plages Americas most disenfranchised. The filmic reduction of only six scenes told in seamless sequence shots all from our protagonists point of view should evoke the feeling of being trapped in the dilemma, the same way our protagonist feels: trapped with no escape, forced into a decision that will change his life forever.
Notes
Director Damian John Harper, Cinematographer Friede Clausz and members of the cast will be available for Q&A after the screening.
Related links