1/1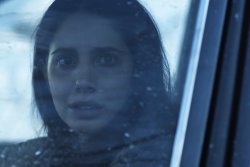 ---
AFTER THE SNOW
East Coast Premiere
United States, 2010, 8 min
Shooting Format:RED
Festival Year:2011
Category:Narrative Short
Cast:Jeannine Kaspar, Mark Borkowski, Sasha Zitofsky
Crew:Producers: Veronica Nickel - Screenwriters: Matthew Tyler - Cinematographer: Owen Donovan - Editor: Brooke Sebold
Email:brooke.sebold@gmail.com
Synopsis
A gun rests on a pregnant belly, rising and falling with the quivering breaths of June Allman. Through the frosted windows of her car, June glares at a lone house across the road. She summons the courage and storms inside, where she confronts Robert Crogan - the man who raped her and the father of her unborn child. With a gun to Robert's chest, June demands an admission of guilt, but she soon finds, as with all matters of life and death, that nothing can be so simple.
About the director
Brooke Sebold is a documentary and narrative filmmaker currently based in New York City. Brooke co-directed the feature-length documentary, RED WITHOUT BLUE (2007), which received over twenty awards including the Audience Award at the Slamdance Film Festival and the Jury Award at Frameline. RED WITHOUT BLUE screened at 200+ film festivals, universities, and museums around the world, and garnered glowing reviews in the SF Chronicle, the LA Times, and the Guardian. Additionally, Brooke's narrative shorts have won numerous awards including the CINE Golden Eagle Award, the Accolade Award of Excellence and the Special Jury Award at the Florida Film Festival. Brooke's work can be seen on PBS, the Sundance Channel, Logo, and Current TV, where one of the pieces she edited was nominated for an Emmy (2008).
Filmmaker's note
When Matthew Tyler (writer) first told me about his idea for After The Snow, I was immediately intrigued. As a director, I have always found myself drawn to characters who have a tendency to make all the wrong choices and are then forced to clean up their own mistakes. June is wildly impulsive, yet desperately seeking control over her own life. She is flawed, unfaltering, and above all else, exceedingly human. I found myself inexplicably drawn to this fraught woman and the tragic repercussions of her rash decisions. June refuses to be a victim, despite the consequences. This simple idea resonated profoundly for me, and I knew that I had to make this film. After The Snow is my third film with Matthew Tyler (writer) and Veronica Nickel (producer). We are currently expanding this short into a feature-length film called Gone, June (to be shot in 2012). Our continued collaboration underscores the immense amount of respect and confidence I have in this creative team. For more information on our upcoming feature, please visit www.gonejune.com
Notes
Director Brooke Sebold will be available for Q&A after the screening.
Related links