1/1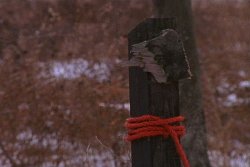 ---
THE RED ROPE
East Coast Premiere
United States, 2011, 10 min
Shooting Format:Super 16
Festival Year:2011
Category:Narrative Short
Cast:Peter O'leary, Tanja Konjar, Carolina Mesarina
Crew:Producers: Brooke Swaney - Screenwriters: Vincent Ma - Cinematographer: Gregory Mitnick - Editor: Matthieu Taponier
Email:vincentcpma@hotmail.com
Synopsis
In a time of scarcity and hardship, a blind woman and her sick daughter struggle to eke out a living in a secluded mountain forest. Using an ingenious system of red ropes, the blind woman moves through the forest to gather necessary food, fuel, and water. But their solitary life is interrupted when a wandering stranger stumbles upon the network of ropes, bringing new threats to their already precarious existence.
About the director
Vincent Ma is an NYU graduate student.
Notes
Director Vincent Ma will be available for Q&A after the screening.
Related links