1/1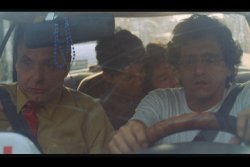 ---
A DOCTOR'S JOB
(¡Una Carrerita, Doctor!)
NY Premiere
Peru, 2010, 10 min
Shooting Format:Super 16
Festival Year:2011
Category:Narrative Short
Cast:Miguel Iza, Gianella Solorzano Pariasca, Hortensia Priale, Christian Ojeda, Luis Menezes, Giancarlo Infante
Crew:Executive Producers: Julio O. Ramos - Cinematographer: Phil Klucsarits - Producer : Luisa Amanda Huaruco - Art Director: Andrea Arce Duval
Sales:AndinoFilms
Email:andinofilms@gmail.com
Synopsis
A doctor, forced by circumstance to also drive a cab, finds himself challenge by his latest fare.
Trailer
About the director
Julio O. Ramos was born and raised in Lima, Peru. He majored in journalism, but his true passion was always filmmaking, so came to the United States at the age of 21 to pursue his dreams. He attended Columbia College of Chicago where he obtained his Bachelors of Arts. He won the first place in the CCC Student Latino film festival two consecutive years with his undergrad films, "Forgiven and NoOne." Julio now pursues his MFA at the UCLA's School of Film, Television and Digital Media where he is mastering his storytelling skills. His first year film, "El Bolerito (The Shoe Shiner)," has recently won the Jury Prize in the Latino student section at the Directors Guild of America (DGA) annual awards. ¡Una Carrerita, Doctor! (A Doctor's Job), is Julio's second year project as a UCLA Graduate Student, but it also is the very first narrative project that he directed in his beloved hometown.
Filmmaker's note
I wanted to make a film in my Native Peru for the first time, so I came up with the idea of a doctor driving a taxi cab in order to make ends meet, which is a sad reality in Latin American countries. I wanted to make something simple to shoot and yet meaningful. At least we accomplished the meaningful part of it for sure; however, it wasn't a simple shoot, since we found ourselves running around with four actors, in a car chase, with guns from Downtown Lima to the Shanty towns. The making of "¡Una Carrerita, Doctor! (A Doctor's Job)" was priceless experiences for sure.
Related links