1/1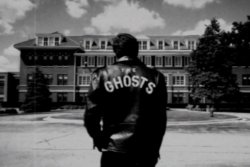 ---
THE GHOSTS
World Premiere
United States, 2011, 13 min
Shooting Format:DVCPro HD
Festival Year:2011
Category:Narrative Short
Cast:Kate Cobb, Alex Koch, Jack Guimon, Mike Castle, Dave Juehring, Luke Lucas, Chuck Jacobson, Matthew Mandarino, Nick Matsas, Eric Hehr, Pete Mueller, Eddie O'Keefe, Matt O'Keefe, Dan Jurik, Brendan Damm, Dave Burchfield, Justin Peacock, Dominic Corso, Ben Kabialis, Alice Rebecchi, Sean-Edward Hall, Taylor Wangler, Grant Brinner, Courtney Knysch, Sars Flannery, Michael Runion, Riley Tucker, Mario Cuomo, Nick Shamblott, Manny Nodarse, Kathleen Kruger, Owen O'Keefe, Katie Ryan, Bridget Ryan, Lauren Stenzel, Kendall Knysch, Veronica Leigh Parker, Dave Stach, Steph McHugh, Maggie McGovern, Meg Cooney, Katy Foran, Clare O'mara, Sydney Yeazel, Carolyn McKee, Paige Rogalski, Tanya Lim, Heather Hellmuth, Charlotte Peters, Ariana Dziedzic, Mo Ohler, Courtney Lipka, The Artist Formally Known as 'Steve', Gary Davidoff, James Zervas, Larry Horn
Crew:Executive Producers: Thomas O'keefe - Producers: Matthew Mandarino - Cinematographer: Lane Teichler - Editor: Lindsay Seyffert
Email:theghosts@theteenagehead.com
Synopsis
Kathy, a sheltered and sensitive teenage girl comes of age when her small sleepy suburb is turned upside down with the mysterious appearance of The Ghosts, a hell-bent greaser gang who emerge from a trash pile in a junk yard at the outskirts of town. After Kathy falls in love with Frank, the tough yet thoughtful leader of the gang, she is forced to stand up to the conservative town, her jealous ex-boyfriend, the Church and her Father in order to protect Frank, The Ghosts and her own emerging identity.
Trailer
About the director
Eddie O'Keefe is a writer and direction from Elmhurst, Illinois. He graduated from Columbia College Chicago in 2010 and is currently living in Los Angeles, California studying directing at American Film Institute. His inspiration comes from Rushmore, Pulp Fiction, Midnight Cowboy, American Graffiti, The Graduate, Band of Outsiders, Bandlands, and Rock n' Roll.
Notes
Director Eddie O'Keefe and Lead Actor Alex Koch will be available for Q&A after the screening.
Related links