1/1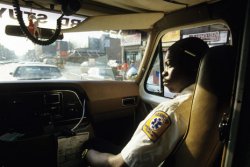 ---
BED STUY - DO OR DIE
World Premiere
Crew:Executive Producers: Jack Osbourne - Producers: Daniel Bishop - Cinematographer: Daniel Bishop - Editor: Daniel Bishop, Ulrike Munch - Composer: Gavin Toomey
Email:bishopdanny7@hotmail.com
Synopsis
This powerful documentary takes viewers deep into the gritty streets of Bed-Stuy with a group of modern-day heroes from the Bedford-Stuyvesant Volunteer Ambulance Corps (BSVAC). This is the first minority volunteer run ambulance corp in the United States of America, and it is fighting to stay alive. It all started back in 1988, when gangs ran the streets and the gun was law. Crack use was at an all time high, causing violence and prostitution, and ambulance response times in Bed-Stuy took up to forty minutes, leaving people to die in the gutter. One larger-than-life character, James 'Rocky' Robinson, decided to take action. Working with gang members, alcoholics and drug takers, he taught them that it is better to save a life than to take a life. Together with his volunteers, Rocky has reduced the waiting time for an ambulances to a record breaking four minutes. Always first on the scene, they transport anyone who needs their help to the hospital. But the ambulance corp has fallen on hard times while waiting for a new headquarters, and has been forced to operate out of a tent in an empty lot. And the heat of another summer season is just beginning...
Trailer
About the director
Danny Bishop is a lighting cameraman/Jib Operator, and he has worked in the industry for 9 years. Much of his work has involved filming abroad, particularly in extreme and often harsh environments such as the Sahara, Amazon, Arctic and Himalayas, locations which require not only working with specialist equipment but the personal skills necessary to operate successfully and professionally in such environments. Danny has worked on productions/commercials for most of the major networks including Jack Osbourne - Adrenaline Junkie, CH 4's Bring Back Series and has most recently operated on a 35 mm British feature film starring Timothy Spall. Bed Stuy - Do or Die is Daniel's directorial debut.
Filmmaker's note
I first read about Bed Stuy when I was still at university over 10 years ago and I thought what a great story and I wanted to go out and work with them there and then. However, I waited and after gaining quite a significant amount of experience I felt this was something I could do myself. I contacted Rocky Robinson in Brooklyn and I went out there to meet him, we got on well and as no-one had ever made a documentary about these guys this was something I seized with both hands. I used credit cards/re-mortgaged and borrowed money and spent over 17 weeks out there though out 2008. I wanted to work with them and and see real life in a bad neighborhood where a few good natured people were trying to make a difference. It was a struggle and the nature of trying to film in a foreign country meant that I had only select time there and I felt I missed things, but what was important was trying to catch a passing of time which I felt I did.
Notes
Director Daniel Bishop, Executive Producer Jack Osbourne and Commander Rocky Robinson of The Bedford Stuyvesant Volunteer Ambulance Corps will be available for Q&A after the screening.
Related links