1/1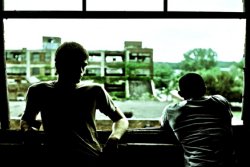 ---
AARDVARK
NY Premiere
United States, 2010, 80 min
Shooting Format:HDV
Festival Year:2011
Category:Narrative Feature
WINNER: Best Original Score
Cast:Larry Lewis, Darren Branch, Jessica Cole
Crew:Producers: Andrew Barchilon - Screenwriters: Kitao Sakurai - Cinematographer: Aaron Kovalchik - Editor: Luke Lynch
Email:contact@figafilms.com
Synopsis
AARDVARK is perhaps the first narrative film to star a man blind since birth. In a role inspired by his own life, Larry Lewis plays a solitary man recovering from alcoholism and working towards stability. When he joins a jiu-jitsu academy he finds a close friend in his young, hard-partying instructor, Darren. But, as disturbing aspects of Darren's life are revealed, Larry soon finds himself alone and faced with the consequences of a horrific act of violence.
Trailer
About the director
Kitao Sakurai was born in Japan and moved to Cleveland, Ohio where he began his cinematic career as a childhood actor. He developed his love for performance into a notable career as a cinematographer and director. AARDVARK is Kitao Sakurai's first feature.
Notes
Director Kitao Sakurai will be available for Q&A after the screening.
Related links