1/1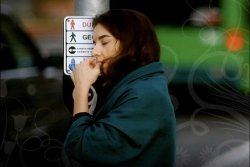 ---
LOVE IS BLIND
(Direk Ask)
US Premiere
Director: Ertug Tufekcioglu
Turkey, 2011, 11 min
Shooting Format:HDCAM
Festival Year:2011
Category:Experimental
Cast:Irem Altug, Atalay Sezgun, Mustafa Derekoylu, Burcu Gurz, Kadir Yilmaz
Crew:Producers: Ertug Tufekcioglu, Irem Altug - Screenwriters: Irem Altug - Cinematographer: Can Sarcan - Editor: Ertug Tufekcioglu - Composer: Yagmur Kaplan
Email:ertug@califaproductions.com
Synopsis
A desperately unhappy woman finds love while not expecting at all. And Love makes Serap blind. If it's Love...
About the director
Born and raised in Türkiye, Ertug Tufekcioglu moved to Los Angeles to pursue film. Ertug participated in various independent projects primarily produced and shot in California. Following a break to study Italian language and culture in Florence, he returned to Los Angeles to complete the production program at USC.
Notes
Director Ertug Tufekcioglu will be available for Q&A after the screening.
Related links