1/1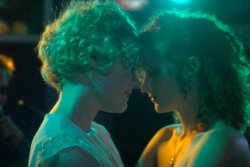 ---
MARY MARIE
World Premiere
United States, 2010, 80 min
Shooting Format:HDCAM, HDV
Festival Year:2011
Category:Narrative Feature
WINNER: Best Cinematography
Cast:Alexandra Roxo, Alana Kearns-Green, Timothy Linden
Crew:Executive Producers: Kathryn Stoddard, Loukas Doukas - Producers: Alexandra Roxo, Alana Kearns-green, Rachel Earnest - Cinematographer: Magela Crosignani - Editor: Matteo Marchisano-adamo, Nida Ball
Email:alexandra.roxo@gmail.com
Synopsis
Two sisters, Mary and Marie, return to their childhood home after their mother's death to enjoy one last summer together there. The heat and isolation of the countryside blossom and blur the girls' growing physical and emotional intimacy. When the local handy man, Peter, shows up, he threatens to reveal their secrets. Mary and Marie's bond becomes dangerously competitive as the sexual tension builds ... and the summer takes an unexpected turn.
Trailer
About the director
Alexandra Roxo is a filmmaker and artist living in Brooklyn, NY. After graduating from NYU's Tisch School of the Arts she lived in Portland and Seattle where she showed her photography and experimental films in galleries and institutions. After being drawn back east for work she has worked on many films in varying capacities such as The Imperialists are Still Alive!, Hounddog, The North Face, and The Age of Stupid. She co-wrote a produced her first narrative feature film, Mary Marie, with colleagues and then she went on to write and direct her own narrative short film, Bemvindo. She also shoots photographs for musicians, designers, and artists, as well as fashion editorial work using mostly 35 mm film. Recently she has been directing short fashion films for various designers and magazines. She has a few scripts in development that she is working on in her spare time.
Notes
Director & Lead Actress Alexandra Roxo, Co-Writer & Lead Actress Alana Kearns-Green, and Producer Rachel Earnest will be available for Q&A after the screening.
Related links