1/1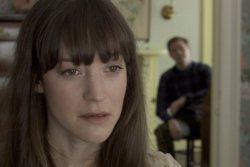 ---
FIVE DAYS GONE
World Premiere
United States, 2010, 85 min
Shooting Format:DVCPro HD
Festival Year:2011
Category:Narrative Feature
Cast:Brooke Bloom, Anna Kerrigan, Austin Lysy, Sam Rosen, Darren Goldstein, Ned Noyes, Richard Wilcox, Erica Wilson, Andrew Flint
Crew:Producers: Anna Kerrigan, Sam Forman, Danielle Reisigl and Louis Venezia - Screenwriters: Anna Kerrigan - Cinematographer: Jimmy Lee Phelan - Editor: Anna Kerrigan
Email:annakerrigan@gmail.com
Synopsis
After her father passes away, Camden discovers she has an illegitimate half sister: Alice. The two couldn't be more different; but Camden is confident that the two of them are destined to be great friends. Alice on the other hand, is not quite convinced. In an effort to bond, the sisters and their significant others take a trip to Lionshead, the family estate in Massachusetts where tensions build and ultimately explode.
Trailer
About the director
Anna Kerrigan is a screenwriter, playwright, and director based in New York City. Her play The Talls will premiere off-Broadway at Second Stage in August 2011. A graduate of Stanford, she received the University's Robert Golden Medal Award for her thesis production The Poor, which she wrote under the mentorship of Artist-in-Residence Cherrie Moraga. Anna has been a member of Ensemble Studio Theater's Youngblood Playwrights group for promising playwrights under 30 since 2009. She is currently developing multiple screenplays, plays and a TV pilot. "Five Days Gone" is her first film.
Notes
Director Anna Kerrigan will be available for Q&A after the screening.
Related links