1/1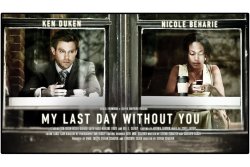 ---
MY LAST DAY WITHOUT YOU
World Premiere
Director: Stefan Schaefer
United States, 2011, 92 min
Shooting Format:HD, D-SLR
Festival Year:2011
Category:Narrative Feature
Cast:Ken Duken, Nicole Beharie, Marlene Forte, Reg E. Cathey, Laith Nakli, Robert Clohessy, Francis Benhamou, Sharon Wilkins, Lawrence Saint Victor
Crew:Producers: Stefan Schaefer, Diane Crespo, Christoph Silber - Screenwriters: Stefan Schaefer, Christoph Silber - Cinematographer: Dan Hersey - Editor: Lance Cain - Original Music: Scott Jacoby
Sales:Mission Pictures International, Cindy Bond - cindy@missionpicsintl.com
Email:info@cicalafilmworks.com
Synopsis
When a young business executive, NIKLAS, is sent from Frankfurt to New York to shut down a division of his firm, he doesn't realize his life is about to be turned upside-down. By 9:30am he has done what he was tasked to do. But his flight back home doesn't leave for another 11 hours. In this time, seemingly by chance, he meets and falls for LETICIA, a beautiful African-American secretary and aspiring singer. The only problem...Unbeknownst to him, she's one of the people he just fired. They end up back in Brooklyn, where he meets her father, a pastor, and begins to realize who she is. Unable to tell her the truth, he stumbles through a romantic few hours of eating, walking through Brooklyn streets, and listening to her play music in her new apartment.At the worst possible time, Leticia finds out Niklas' true identity. In a rage, she abandons him deep in Brooklyn. Several hours later he shows up at her father's church shoeless, without his wallet or phone, and sporting a black eye. Despite this, it's clear he's been stricken by an emotion he's never experienced before. And yet he doesn't fully grasp this until he's walking back through the terminal doors at JFK airport. And Leticia is heading for her music gig at a Brooklyn bar...The film mines the humor and conflict that arises when two individuals - seemingly so different - are thrown together by a force they fight but ultimately cannot control...love.
Trailer
About the director
A founder of the New York production company Cicala Filmworks, Stefan Schaefer's films have premiered and won awards at festivals such as Berlin, the Hamptons, and South by Southwest, and been successfully released theatrically, via cable outfits such as HBO and the Sundance Channel, and on DVD. In addition to his work at Cicala Filmworks, in 2009 Schaefer founded Silver Shepherd Films with writing and producing partner Christoph Silber ("North Face", "Goodbye, Lenin"). Silver Shepherd focuses on international co-productions, with their first project being "My Last Day Without You." Schaefer's feature film ARRANGED won the grand prize at the Brooklyn Film Festival in 2007.
Stefan Schaefer's filmography
Filmmaker's note
The premise for the film is very loosely based on the experiences of my writing partner, Christoph Silber, who met his wife on the subway in Brooklyn. Such "chance meetings" are often depicted in film, and at times come off as narrative device. However, both of us have been shaped by such encounters in our personal lives and so decided to forge ahead and flesh-out some ideas.
Notes
Director Stefan Schaefer and various cast and crew will be available for Q&A after the screening.
Related links