1/1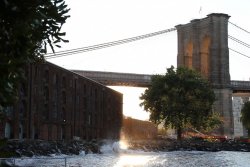 ---
THE BROOKLYN BRIDGE
World Premiere
Crew:Derek Garcia
Email:derek.s.garcia@gmail.com
Synopsis
A Portrait of The Brooklyn Bridge from day to night.
Trailer
About the director
Derek Garcia: I'm a filmmaker living in Brooklyn, NY. I find film in everything I do. Starting with photography in middle school, I found my visual style. Then I found my voice in film in high school, now I am fine tuning my filmmaking in college at the SUNY Purchase Film Conservatory. My films have been shown all across the globe from South Korea to New York City.
Notes
Director Derek Garcia will be available for Q&A after the screening.
Related links