1/1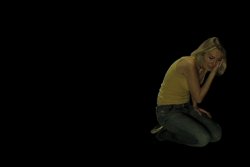 ---
THE AUDITION, X2.90907
US Premiere
Canada, 2009, 17 min
Festival Year:2011
Category:Experimental
Cast:Arnold K.
Crew:Screenwriters: Thierry Loa - Cinematographer: Kevin Hedley - Editor: Thierry Loa
Email:thierryloa@gmail.com
Synopsis
A psychoanalytical drama film about the audition of a young actress; creating an allegorical scenario.
Trailer
About the director
Having studied film, multimedia and philosophy, Thierry Loa is an interdisciplinary film and multimedia director, writer, producer, and thinker. In 2008, he wrote and directed an interactive film 'Come to the Secret Location' which received great recognitions such as Finalist in Best Film/TV site at the SXSW festival and Gold Award in Flash Narrative at FITC. His latest short film 'The Audition, X2.90907' (2009) won Best Film in the experimental category at the Moving Image Film Festival. He is currently working on a cinematic-ethnographic feature film titled '20-22: Society of the Spectacle,' amongst other film and new media projects.
Notes
Writer/Director Thierry Loa will be available for Q&A after the screening.
Related links