1/1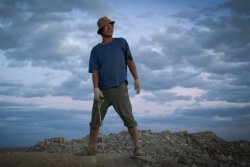 ---
PRICE OF GOLD
US Premiere
Crew:Co-director: Chingunjav Borkhuu - Producers: Maximilian Plettau - Screenwriters: Sven Zellner - Cinematographer: Sven Zellner
Sales:www.nominalfilm.com
Email:svenzellner@web.de
Synopsis
Mongolian "ninjas" dig blindly into the Gobi Desert, hoping to find veins of gold. Their dangerous work is illegal, and they face harsh conditions, hand-packing dynamite in homemade mineshafts, washing their ore barehanded with mercury, working in an isolated and unforgiving environment. Gold is the most popular investment product in today's world, and this amazingly intimate documentary shows us the men who experience the real "price of gold" at the other end of the world. It is an archaic male-dominated society in a previously untouched region of the earth. "Price of Gold" describes in very direct and stark images what it means to prospect for gold by hand, collecting just a few grams at a time.
Trailer
About the director
Sven Zellner studied cinematography at the Munich University of Television and Film. His photo reportages are distributed by the Hamburg-based agency Focus. He has come in second in the "BBC Wildlife Photographer of the Year" awards twice and published his first book of photographs when he was 22 years old. His photos appeared in GEO, GEOlino, BBC Wildlife Magazine, Natur, Terra. He was the director of photography for the cinema feature film "Die Hummel" ("The Bumblebee"), to name but one example. "Price of Gold" is his debut cinema movie. Director and cinematographer Sven Zellner spent about four years to find and be accepted by the protagonists for his film and he understands the Mongolian language. His photo reportage, which he created in the course of his research for "Price of Gold" - "Ninjas - Gold Rush among the Mongolian Nomads" - was presented at the international festival of photo journalism, "Visa pour l'image - Perpignan", in 2011. Sven Zellner gives lectures at the Munich University of Television and Film and at the University of Applied Science Darmstadt
Notes
Director Sven Zellner will be available for Q&A after the screenings.
Related links