1/1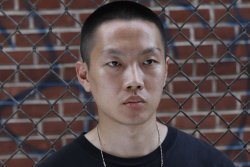 ---
REAL TALK
East Coast Premiere
United States, 2011, 13 min
Shooting Format:Super 16
Festival Year:2012
Category:Narrative Short
Cast:Sui Keung Wong, Jamal McCree, Nancy Eng, Branden Wellington, Matthew Nared, Corey Clark, Brenton Duplessie, LoDeon Lo
Crew:Producers: Jessie Goldenberg - Screenwriters: Patrick Ng - Cinematographer: Mingjue Hu
Email:patrickng122@gmail.com
Synopsis
Pax and Iggy are best friends, but their bond is broken when Pax discovers where Iggy's loyalties truly lie. A portrait of the end of a friendship set in New York City's 'Two Bridges' neighborhood.
Trailer
About the director
Patrick Ng is a graduate of New York University's Tisch School of the Arts where he majored in film directing. His thesis film, "REAL TALK" won the prestigious Wasserman/King Award as well as Commendations in Directing, Cinematography, Producing, Editing, Acting, and Sound Design at NYU's 69th Annual First Run Film Festival. He is the recipient of the Russell Hexter Filmmaking Grant and was nominated for the National Board of Review Award. His other recent credits include Apprentice Editor on the Peabody Award winning "If God is Willing and 'Da Creek Don't Rise" directed by Spike Lee and Assistant Director on "Close." (Official Selection Sundance 2011) directed by Tahir Jetter.
Filmmaker's note
Although the United States takes pride in the beauty of it's mosaic-like diversity, we as Americans have yet to delve into understanding the complexities of our multicultural relationships with our fellow citizens. As an Asian American growing up in a predominantly African American community, I often felt that I was a minority amongst minorities. My best friend was African American, yet it was African Americans at school who were bullying me because of my racial background. Having experienced these complexities, I became obsessed with how people from different racial backgrounds and cultures interact with each other, especially in the U.S. My film, "REAL TALK" explores this fascination and paints a portrait of a diverse neighborhood that reflects the U.S. at large. My intent is that the film will neither simply denounce racism nor blindly promote racial integration, but challenge and complicate our views on living in a ever diversifying nation by revealing the complex identity issues and conflict that can arise in interracial relationships, particularly between best friends.
Notes
Director Patrick Ng will be will be available for a Q&A after the screening.
Related links