1/1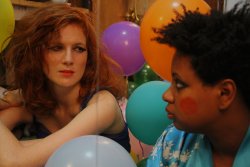 ---
CAT SCRATCH FEVER
World Premiere
United States, 2011, 73 min
Shooting Format:DVCPro HD
Festival Year:2012
Category:Narrative Feature
Cast:Starsha Gill, Kara Elverson, Gavin Bailey, Adam Bird, Kate Lyn Sheil, Sophia Takal, Isabelle Rancier, Nick Mendoza
Crew:Executive Producers: Nicole Duva, Jason Ciccone, Jennifer Fox - Producers: Katherine Nolfi, Andrew Luis - Screenwriters: Lisa Duva, Katherine Nolfi, Kara Elverson, Starsha Gill - Cinematographers: Andrew Luis, Katherine Nolfi - Editors: Lisa Duva, Katherine Nolfi, Ben Brown
Email:catscratchfeverfilm@gmail.com
Synopsis
CAT SCRATCH FEVER is a madcap caper following two young women's adventures in alternate realities. Lisa and Ashley, roommates and best friends forever, discover they can observe parallel universes online and quickly become consumed with stalking themselves in other dimensions. It's the ultimate reality television: how can you sleep when you can watch yourself sleeping? As they sink deeper into their voyeuristic addiction, they lose the ability to distinguish between their real and alternate lives. CAT SCRATCH FEVER is a metaphor for the countless possibilities modern life and technologies present us.
Trailer
About the director
Lisa Duva is a Brooklyn based filmmaker who has produced and directed over one hundred short-form documentaries for companies including NJ Sports, the Prudential Center in Newark, NJ and Open Road Media. Her first short film MOUTH BABIES (co-directed with Katherine Nolfi) played at numerous film festivals. She co-produced the independent feature film UPSTATE, an official selection of the 2010 Los Angeles Film Festival and released by IFC/SundanceNOW. CAT SCRATCH FEVER is her first feature film.
Notes
Director Lisa Duva will be available for a Q&A after the screening.
Related links