Latest News: BAFTA - "I AM NASRINE" was one of the "Outstanding Debut" nominees at the 2013 Orange British Academy Film Award. more info

1/1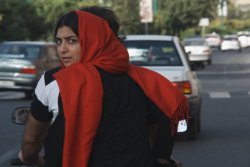 ---
I AM NASRINE
US Premiere
England, 2012, 86 min
Shooting Format:RED
Festival Year:2012
Category:Narrative Feature
Cast:Shiraz Haq, Micsha Sadeghi, Nichole Hall, Christian Coulson, Darren Palmer
Crew:Producers: James Richard Baillie - Screenwriters: Tina Gharavi - Cinematographer: David Raedeker - Editor: Lucia Zucchetti, Lesley Walker
Email:admin@bridgeandtunnelproductions.com
Synopsis
Nasrine and Ali are sister and brother in a comfortable middle class Iranian home, but when Nasrine has a run-in with the authorities, the punishment is more than she bargained for. At her father's bidding, she and her brother set out for the United Kingdom, torn about leaving behind their home and all that they know, embarking on a reluctant exile. Still, for Nasrine, there is undeniable excitement about the prospect of starting a new life in the West, and an eagerness for its promise of new freedoms. Nasrine is quick to settle into her new life, making friends and forming bonds with the travelers, an English gypsy community. Her brother Ali, however, struggles with the realities of life in the UK and his awakening sexuality. Then comes 9/11, and things spiral out of control when an unimaginable tragedy occurs. "I Am Nasrine" is an intimate journey of self-discovery and ultimately reveals the unfolding of a soul. When you change where you are do you really change who you are?
Trailer
About the director
Gharavi is a filmmaker whose work focuses on "untold stories, unheard voices" and filmmaking from the margins. Gharavi has been hailed as one of the most inspirational and thought-provoking filmmakers of her generation. Since leaving Iran in 1979 she has been a true nomad (like her great-grandfather from the Bakhtiari tribe in Persia). Carrying no less than four passports she trained as a painter in the United States and studied cinema in France but currently resides in the North of England. She is noted for her innovative cross-platform work on migration. Sundance programmer Shari Frilot said of Gharavi's film "Closer" that "it takes documentary to the next level." Since then, she has made endearing, inimitably voiced films from unique perspectives on subjects as diverse as Muhammad Ali, teenage sexuality, Yemeni-British sailors, The Lackawanna 6, death row exonerees and lighthouses. Using all her reserves of ingenuity, she recently completed her first feature with no formal film finance. I Am Nasrine is a coming of age story of two teenage Iranian refugees in the North of England. The project patron Sir Ben Kingsley called it "a life enhancing film, an important and much needed film." She plans a change of direction with her next feature, a gangster film with girls, guns and the odd Iranian thrown in. Gharavi also teaches filmmaking at Newcastle University and has lectured worldwide including Oxford University, UCL, SUNY Buffalo and Croatia as well as other exotic locations.
Tina Gharavi's filmography
Notes
Director Tina Gharavi will be available for a Q&A after the screening.
Related links