1/1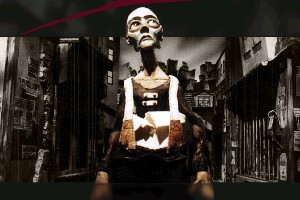 ---
THE HUNGER ARTIST
East Coast Premiere
United States, 2002, 16 min
Shooting Format:35mm
Festival Year:2002
Category:Animation
Sales:Tom Gibbons, Oakland, CA
Email:gibbons@tippett.com
Synopsis
Set in a city both past and present, on a deserted street where only the distant sounds of life blow by. The Hunger Artist stands alone, locked in his cage. Once famous and adored by the crowds, he now performs alone. The Hunger Artist is the story of one man's travel from glory to anonymity and into the greatest performance of his life.
A stop-motion animated film, The Hunger Artist is based on a short story by Franz Kafka. The viewer first sees a lone figure renting out a cage. He goes into the cage, unpacks his bag, and locks himself in. This strange character is the Hunger Artist: a performer whose art consists of denying himself nourishment.
About the director
The director was an illustrator for many years (or at least long enough to go broke). Then, needing food, he took many different jobs: video clerk, jewelry designer, welder, metal worker. Then one day he borrowed a s8mm camera. Thinking it a novel idea to animate.
Related links