1/1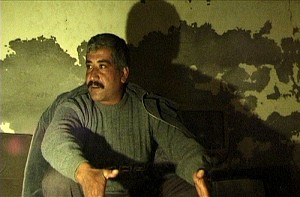 ---
AREA K- A Political Fishing Documentary
World Premiere
Director: Nadav Harel & Ramon Bloomberg
United States, 2001, 54 min
Shooting Format:DVCam
Festival Year:2002
Category:Documentary Feature
Cast:People of Israel and Gaza
Crew:Producers: Ben Evansky, George Eid - Screenwriter: Nadav Harel - Editor: Nadav Harel, Enat Sidi - Cinematographer: Nadav Harel / Ramon Bloomberg / Noaz Deshe / Zohar Kaniel
Sales:Wildfist Motion Pictures, Brooklyn, NY
Email:george@wildfist.com
Web:www.wildfist.com
Synopsis
AREA K is an Israeli controlled military marine zone isolating the Gaza strip and preventing Palestinian fishermen from entering Israel, Egypt and international waters. This documentary follows a business partnership between a clan of Palestinian fisherman from the refugee camps of Gaza and their Israeli counterparts living in the settlement of Dugit, Gaza strip.
In the partnership, Israeli settlers from Dugit arrange permits from the Israeli Military and Police allowing the Palestinians to fish in Israeli waters and work from the Area K beach where fishing huts are established for the Palestinians to sleep and work from. This is a story about Arabs and Jews, individuals who are struggling together to catch fish in the midst of the painful, historical, racial and territorial Middle East bloodshed. Through the eyes of the sea, AREA K is a story of peace dynamics of what could have been and what so nearly was. It is a peace promoting film.
The Sea knows no laws, no governments, no rights and no wrongs. The spirit of God moves upon it and all men are reduced to equals by it. Filmed above and below water over a two-year period starting in April 1999 when peace was still at the top of the agenda and finishing in March 2001 (the seventh month of the bloody Al Aqsa Intifada), the film demonstrates the political complexities of the region as experienced through the daily life of fishermen and their relationship with nature.
'Every fish has the soul of a Righteous Man'. -Udi Kfir, Israeli fisherman, Gaza 2001.
About the director
Nadav Harel (director) is a Tel Aviv / New York based documentary filmmaker. His career started with the award winning provocative film "Chicken Hawk", documenting the intimate lives of pedophiles in the Northeastern coast of the US. Nadav is also an award winning documentary editor, credits including "Children of the Revolution" and "Shine." His recent works include co-directing Area K and Director of Photography for "The Laverne Affair", two current Wildfist activities. Nadav's latest project is "White Goddess". Currently working on "Ecstasy, A Middle Eastern Delight"
Ramon Bloomberg (co-director) is a filmmaker based in New York City. He wrote and directed his first feature film in 1995, "Pro 48". Ramon has directed music video's, short and feature length films, recently completing his first documentary, "Area K", which he co-directed. Currently, he is in post-production for "The Laverne Affair", a feature length film that he co-wrote and directed. Ramon's next project is "Farbed Out" (tentative title). a documentary film about Civil War Re-enactors.
Related links