Latest News: DEAR MANDELA - BFF 2012 US Premiere, Best Documentary & Grand Chameleon Award winner - will have its national broadcast premiere on PBS as part of the series AfroPoP on January 29th, 2013. Visit AfroPop's website for more details.
1/1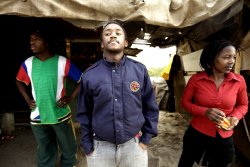 ---
DEAR MANDELA
US Premiere
Director: Dara Kell & Christopher Nizza
South Africa, 2012, 90 min
Shooting Format:RED, HD
Festival Year:2012
Category:Documentary Feature
WINNER: Grand Chameleon Award and Best Documentary
Crew:Producers: Dara Kell, Christopher Nizza, Tina Brown, Neil Brandt - Cinematographer: Matthew Peterson, Dara Kell - Editor: Dara Kell, Christopher Nizza
Email:dara@dearmandela.com
Synopsis
When the South African government promises to 'eradicate the slums' and begins to evict shack dwellers far outside the city, three friends who live in Durban's vast shantytowns refuse to be moved. Dear Mandela follows their journey from their shacks to the highest court in the land as they invoke Nelson Mandela's example and become leaders in a growing social movement. By turns inspiring, devastating and funny, the film offers a new perspective on the role that young people can play in political change and is a fascinating portrait of South Africa coming of age.
Trailer
About the director
Dara Kell is an award-winning South African filmmaker and editor. She has edited documentaries about international justice, prison reform, LGBT rights, Head Start and domestic violence amongst others. Christopher Nizza is a New York City- born filmmaker and editor whose work includes commercials, music videos, documentaries and Emmy Award-winning television work. Dara and Christopher are co-directors of Dear Mandela, their first feature-length documentary. The film won Best South African Documentary at the Durban International Film Festival, Movies That Matter's Golden Butterfly award and is an African Academy Award nominee for Best Documentary. Dara and Christopher have spent 10 years working with grassroots organizations across the United States developing collaborative films.
Notes
Filmmakers Dara Kell and Christopher Nizza will be available for a Q&A after the screening.
Related links