1/1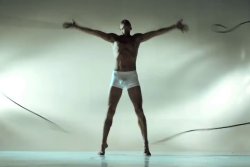 ---
STRANDS
US Premiere
Canada, 2010, 7 min
Shooting Format:RED
Festival Year:2012
Category:Experimental
Cast:Jonathan Turcotte, Marc Boivin, Clara Furey
Crew:Choreographer: George Stamos - Dancers: Jonathan Turcotte, Marc Boivin, Clara Furey - Director of Animation, Animator: Thea Pratt - Animator: Louisa Sage - Director of Photography: Glauco Bermudez - Composer: Gabriel Dharmoo - Supported by: Bravo!FACT and the National Film Board of Canada.
Sales:www.videographe.qc.ca
Email:cmorissette@videographe.qc.ca
Synopsis
Animated fingerprints interact with dancers in this live action/animated dance film about desire, consciousness and identity.
Trailer
About the director
Paul Neudorf has several years experience editing and directing video. He edits video for various clients, both private and corporate. From 2007-2009 Paul taught video to youth in an innovative new video and media education program for youth at the Segal Centre's Academy for Performing Arts. Since September 2010, he has been participating in the Digital Film and Media program's video editing work-study at The Banff Centre in Alberta. He edits video on projects such as the Banff Mountain Film Festival, Women in the Director's Chair program, video art installations, publicity spots and editing various short documentary and fiction films for visiting directors.
Filmmaker's note
Bringing this film to life are three dancers, or characters, each connected to a set of fingerprints. Manifesting consciousness is the principal dancer Jonathan Turcotte, who in turn is manipulated by the other two characters and the animated strands of fingerprints. Marc Boivin, the second dancer, embodies both Jonathan's desire and unconscious, whereas the final dancer, Clara Furey, who represents society, acts initially as an obstacle to Turcotte, yet eventually provides space for the two dancers to evolve. The relationship between Boivin and Turcotte shifts constantly between the weight, uncertainty and anticipation of desire.
Related links