1/1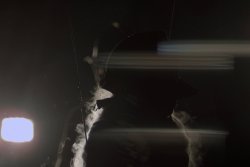 ---
NO CONTRACT
NY Premiere
Canada, 2011, 8 min
Shooting Format:RED, HDV
Festival Year:2012
Category:Experimental
Crew:Producers: Darcy Van Poelgeest, Randall Okita, Michel Kandinsky, Jonathan Schwartz - Screenwriters: Randall Okita - Cinematographer: Stephen Chung - Editor: Dev Singh
Email:rokita@absitomenmedia.com
Synopsis
No Contract is a visceral video that combines elements of performance, sculptural cinema and documentary to explore themes of urgency, isolation and escape, as well as the notions of torment and renewal, desire and destruction.
Trailer
About the director
Randall Lloyd Okita is a Canadian visual artist whose work often incorporates elements of sculpture, technology, drama and rich cinematography. Born and raised in Calgary, Alberta, his work has won national and international acclaim, has been broadcast internationally, and screened as official selections in festivals from San Francisco to Tehran. In addition to making things in Toronto, Randall is the Program Director and Filmmaker in Residence at Presenting Our Vision, a registered charity and training network dedicated to exposing youth to filmmaking. His favorite road snack is celery.
Randall Okita's filmography
Notes
Producer Michal Kandinsky available for a Q&A after the June 4th screening and Director/Producer Randall Okita and Composer Lodewijk Vos available for a Q&A after the June 9th screening.
Related links