1/1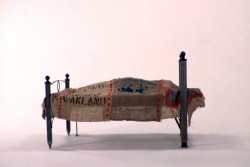 ---
MACHINE WITH WISHBONE
US Premiere
Canada, 2007, 6 min
Festival Year:2008
Category:Experimental
Crew:Producers: Randall Okita, Amber Woodward, Tovah Paglaro - Executive Producer: Elizabeth Levine - Screenwriter: Randall Okita - Artists: Arthur Ganson, Alan Storey - Editor: Thomas Sabinsky - Cinematographer: Jared Spencer - Original Score: Matthew Rogers
Sales:Absitomen Media, Vancouver, BC, Canada - T: 1.604.614.5801
Email:rokita@absitomenmedia.com
Synopsis
Live action techniques using innovative camera choreography, photo sculpture, and kinetic sculpture depict the story of a stoic mechanical wishbone on its journey through a world of snoring beds and paper birds. Both machines and objects become characters set in a bewitching landscape.
Trailer
About the director
Randall Lloyd Okita is a Canadian visual artist whose work often incorporates elements of sculpture, technology, drama and rich cinematography. Born and raised in Calgary, Alberta, his work has won national and international acclaim, has been broadcast internationally, and screened as official selections in festivals from San Francisco to Tehran. In addition to making things in Toronto, Randall is the Program Director and Filmmaker in Residence at Presenting Our Vision, a registered charity and training network dedicated to exposing youth to filmmaking. His favorite road snack is celery.
Randall Okita's filmography
Notes
Director Randall Okita will be available for Q&A after the June 7th screening.
Related links