1/1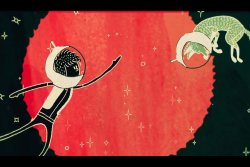 ---
THE LADDER
World Premiere
United States, 2011, 4 min
Shooting Format:HDV
Festival Year:2012
Category:Animation
Crew:Producers: Emily Wormley - Cinematographer: Ray Olivares - Song: Andrew Belle
Email:management@andrewbelle.com
Synopsis
THE LADDER is the official music video for the song by Andrew Belle. It is the story of boy-Andrew's journey to regain possession of his magical keys, which have been nabbed by a fox. Andrew chases the fox through forests, oceans, caves, outer-space, and erupting volcanoes in hopes of recovering his magical keys (which when planted, help him out of precarious situations). The song itself paints a picture of the importance of emotional and physical distance, timing and circumstance in love and relationships. The music video is meticulously hand-animated in order to evoke the delicate nature of love without explicitly presenting a typical relationship.
Trailer
About the director
Emily Wormley's ultimate ambition is to employ visual techniques to describe feelings and sounds. Born and raised in Richmond, VA, she has lived all around the U.S. and established herself as an emergent thinker in the visual sphere, experimenting with both obsolete and advanced systems. Emily is currently in production on a sound-image collaboration with interactive music software organization /parallelogram/. She lives in Asheville, NC.
Notes
Director Emily Wormley and Lead Animator Elliot Robinson will be available for a Q&A after the screening.
Related links