1/1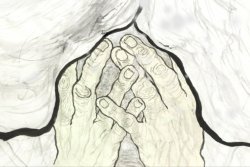 ---
CITY OF GOOD PEOPLE
US Premiere
Korea, 2011, 16 min
Shooting Format:HDCAM
Festival Year:2012
Category:Animation
Crew:Producers: KIM Taeck-gyu - Composer: CHOI Hyun-geun, BONG Yun-geun, LEE So-young
Email:yiyi1983@naver.com
Synopsis
A young grandson is missing. The police have been investigating for 6 months but have found nothing. The case remains unsolved. The grandmother cannot accept this fact. She thinks her grandson is alive. Alone, the grandmother climbs up the mountain where the police had conducted most of their investigation.
About the director
HUR Bum-wook Born in Seoul in 1983. Graduated from Korean Academy of Film Arts, Dept. of Animation Directing in 2011. In 2002, The first time watched a short animation films. Film is Peter Foldes's La Faim(Hunger). have dreamed Animation director of since then. Is currently directing a feature-length animation. Is scheduled for release in 2013.
Filmmaker's note
A deep emotional scar can never be cured or forgotten. You just have to accept the fact and bear it. That's why it hurts all the more.
Related links