1/1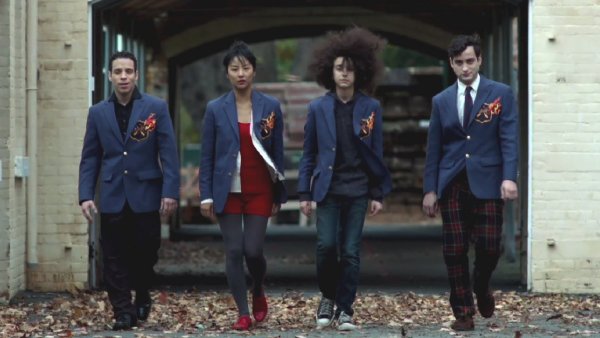 ---
HAIRBRAINED
World Premiere
United States, 2013, 106 min
Shooting Format:Arri Alexa
Festival Year:2013
Category:Narrative Feature
WINNER: Best Screenplay and Best Actor Male
Cast:Alex Wolff, Brendan Fraser, Julia Garner, Parker Posey
Crew:Producers: Sarah Bird - Screenwriters: Adam Weirbianski - Cinematographer: Charlie Libin - Editor: Paul Bertino
Email:info@lovelanepictures.com
Synopsis
When 14-year old genius/outcast Eli Pettifog is rejected from Harvard, he ends up at Ivy-League wannabe Whittman College. It's hate at first sight. Eli's 41-year old dorm mate Leo a formerly serious gambler whose world has imploded, has dropped out of life to enroll in college. This odd duo becomes unlikely friends. Avenging his rejection, Eli commandeers Whittman's perennial loser Collegiate Mastermind Team, leading them seemingly single-handed to the championship, against inevitably powerhouse Harvard. Meanwhile, Leo's estranged daughter Sophie shows up for a campus tour, throwing Leo's collegiate world upside down. Love, friendship and a rag-tag family complicate their academic dreams.
About the director
A senior principal of Love Lane Pictures, Billy Kent is the director, producer, and co-author of HairBrained. He is an award-winning feature and commercial director whose work has been seen nationally and internationally since 1993. Billy's feature debut, The Oh in Ohio, stars Parker Posey, Danny DeVito, Paul Rudd, Mischa Barton, Heather Graham, and Liza Minnelli. Over the last fourteen years Billy has directed over 200 commercials and 11 short films. His commercial budgets have exceeded $35 million. He has developed a reputation for inventive, beautifully stylized comedy. His series of political satire and parody commercials for MTV helped define the network's place in America's cultural lexicon. Billy is a graduate of Vassar College and The American Film Institute.
Notes
Director Billy Kent, Producer Sarah Bird and their cast will be available for a Q&A after the screening.
Related links