1/1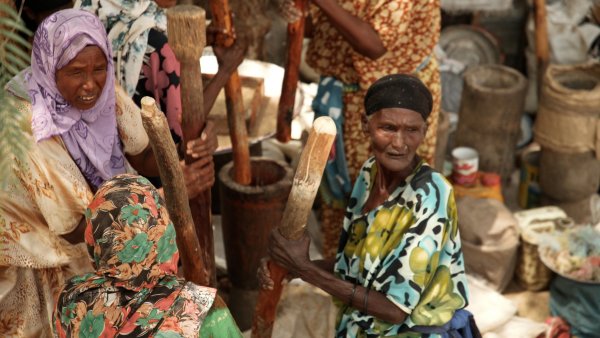 ---
A HOLE IN THE SKY
(Godka Cirka)
World Premiere
Director: Antonio Tibaldi & Àlex Lora Cercós
Cast:kadija hagi, Faadumo Isma'il , Sahra Cige Diiriye
Crew:Producers: Francis Mead, Valérie Delpierre - Cinematographer: Antonio Tibaldi - Editor: Àlex Lora Cercós
Email:al@alexlora.es
Synopsis
Young Alifa looks up at the Somali sky thinking about her daily life as a shepherdess... She knows that the day that will change her life forever is about to come.
About the director
Antonio Tibaldi was born in Australia, grew up in Europe and lives in New York. He has written and directed 5 feature films in US, Canada and Italy. He has worked with actors such as Judy Davis, Nastassja Kinski, Rachel Blanchard, RyanPhillippe, John Savage, Shirley Knight, Christina Applegate, Stefano Dionisi. His films have been released by companies such as Warner Bros., Miramax and Lions Gate, and have screened at festivals including Berlin, Sundance, San Sebastian, Rotterdam, The Hamptons, Fort Lauderdale, Seattle, Los Angeles Independent Film Festival. In 2004, he started collaborating as videographer with United Nations' Department of Public Information, shooting documentaries for broadcast series "21st Century" on some of the world's most under-reported realities.
Born in Barcelona, Àlex Lora Cercós studied Filmmaking in New York as a Fulbright scholar. He has worked internationally as script analyst, editor, cinematographer, writer and director. During the last years Alex has combined these activities teaching in prestigious universities such Elisava, Blanquerna or University of Barcelona. His work has obtained more than 80 awards and has been screened in over 300 festivals in more than 40 countries. (www.alexlora.es)
Antonio Tibaldi & Àlex Lora Cercós' filmography
Filmmaker's note
Beerato: a little known area of the world is a small area with wide open expanses in wind swept Somaliland. This is a short -- an episode of a feature length project we would like to make. We hope that our mesmerizing observation will bring a new perspective to how we look at the lives of ordinary women living in an extraordinary (to western eyes) place.
Related links