1/1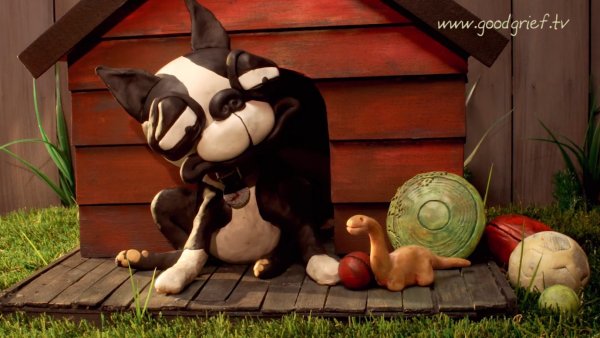 ---
GOOD GRIEF
US Premiere
Australia, 2012, 8 min
Festival Year:2013
Category:Animation
Cast:Alex de Vos, Sarah de Vos, Dana Katz, Daniel Michael, Andrew O'Sullivan
Crew:Producers: Jonno Katz - Screenwriters: Fiona Dalwood - Composer: Matthew Nicholson - Sound Design: Livia Ruzic
Email:director@goodgrief.tv
Web:www.goodgrief.tv
Synopsis
Five real people share their true stories of losing something precious and what it has taught them about living. Good Grief is a short stop motion animated documentary that explores the lessons we learn from dealing with grief and loss.
Trailer
About the director
Fiona Dalwood is an Australian artist who has come to animation the long way round. Having practiced art since she could wield a crayon, Fiona quickly mastered pirate stick figures and dive-bombing birds at an early age before moving on to study drawing at Melbourne's own Victorian College of the Arts. Since then Fiona has continued to draw and make deranged things out of old toys, LEGO, hardware and plasticine. After holding down many Big Kid jobs from graphic design through to pornography , she settled on animation as her medium of choice. Her animated shorts have toured the world, making people laugh and cry.
Filmmaker's note
Good Grief is the result of a promise I made to my late mother in 2010, to pursue what I loved and make artwork that was nourishing and truthful. Making Good Grief has been an incredibly rewarding and humbling experience. Many people who hear about the film feel compelled to reveal to us their own story of loss, and hearing their stories makes me feel privileged as a film-maker and storyteller. Interviewing our subjects revealed to me just how much courage it takes to open yourself up and inspect those parts of yourself that are hurting and raw. I'm really grateful for the experience and continue to be amazed by how generous our interviewees were with us. After losing mum to cancer at such an early age my circle of friends started turning to me for advice on grief and loss. There is an awkwardness we exhibit around people in grief, of not knowing what to say or how to react for fear of upsetting someone, that clouds any actual conversation we could have about what this profound experience really means. I wanted to find a way of encouraging others to reflect on their own experience of loss and how it has changed their lives. I felt claymation was the perfect medium to make an emotionally raw film that doesn't leave you reaching for the tissues.
Related links