1/1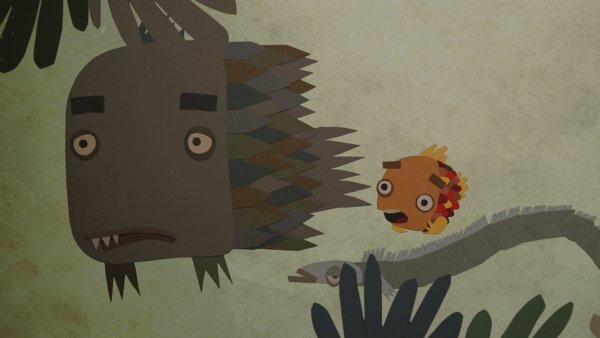 ---
LIVE BAIT
(Esca Viva)
US Premiere
Director: Susanna Nicchiarelli
Italy, 2012, 7 min
Festival Year:2013
Category:Animation
Cast:Claudia Pandolfi, Paolo Lombardi
Crew:Producer: Francesco Nicchiarelli - Screenwriters: Susanna Nicchiarelli, Stefano Cravero - Animation: Gianluca Maruotti, Lorenzo Terranera, Juan Pablo Etcheverry - Editor: Eleonora Cao - Sound Design: Francesco Leporatti - Line Producer: Frederic Ollier
Email:frederic.ollier@panoramicfilm.com
Synopsis
A small fish one day meets a big fish. The big fish wants to eat him, and that is more than normal... but a discussion between the two will turn the story around. Because nothing is as it seems.
About the director
Susanna Nicchiarelli was born in Rome in 1975. She studied philosophy at the University of Rome La Sapienza and obtained a PHD in Film Aesthetics at the Scuola Normale Superiore di Pisa, attending courses and master classes also in Paris at the Ecole Normale Superiéure de Fontenay-Saint-Cloud. She studied film direction and script writing at the University of California Los Angeles (UCLA) and in 2004 she graduated in Cinema Direction at the Centro Sperimentale di Cinematografia in Rome, Cinecittà. She directed two feature films: "Cosmonauta" ("Cosmonaut") - 2009 , winner of the Controcampo award at the 66th Venice International Film Festival; "La Scoperta dell'Alba" (Discovery at Dawn) - 2012, presented in the Official Selection at the Rome International Film Festival 2012. Among other short films and documentaries, she also directed two animation shorts ("Sputnik 5", 2009, stop-motion animation, winner of the Nastro d'Argento Best Animation Short and of the Brooklyn International FilmFestival, Best Animation Film; "Esca Viva", 2012, stop motion animation on paper, presented in the Official Selection at the Rome International Film Festival, as a Special Event).
Susanna Nicchiarelli's filmography
Filmmaker's note
Men often put animals in very weird positions: the "live bait" situation, for example, is quite paradoxical. I have always wondered: if a live bait were able to communicate to its predators that she was a "bait", would she do that? But why should she? And would the other fish believe her? Humans often live very similar situations: the "live bait" story reminds me of a lot of "dynamics" that occur between humans, where survival is often an issue of power, or trust; most of the time, in the human world, there is a common destiny in violence that bonds friends and enemies, victims and slaughterers: just like the common destiny of the two fish in the cartoon. The animation technique that we used for this short is a 2D stop motion, where the characters are made of paper collages. As in the other animation short that I did, Sputnik 5, I find very charming today the use of old stop motion techniques for animation. I believe these techniques give an airy, ethereal feeling to the stories I choose to tell, whereas a 3D digital animation technique would spoil all the magic. The world of animals in which my stories take place is funny and sad at the same time: these little characters live tragic situations with simplicity and irony. That is why the writing I think goes perfectly well with these "obsolete" techniques, which make the apparently childish characters appear more old, and pensive, and melancholic.
Notes
Director Susanna Nicchiarelli will be available for a Q&A after the June 8 screening.
Related links