1/1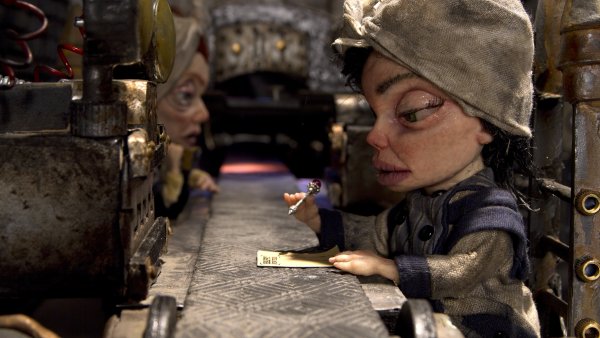 ---
BUTTERFLIES
East Coast Premiere
Australia, 2012, 13 min
Festival Year:2013
Category:Animation
Crew:Producers: Warwick Burton - Screenwriters: Warwick Burton, Isabel Peppard - Cinematographer: Jon Billington - Editor: Bill Murphy - Composer: Elliott Wheeler
Email:warwick@tbcmedia.com.au
Synopsis
A young artist sits on the sidewalk, struggling to make a living. She makes drawings for the passersby. A businessman recognises her talents and offers her a paying job.   The prospect seems inviting but the reality threatens to kill her imagination....
Trailer
About the director
Isabel Peppard is a multi-talented filmmaker who has co-written, directed and designed two short animated films. Peppard began her career as a prosthetics makeup artist, drawn to the industry by her love of horror and movie monsters. Over the years Isabel used the skills associated with SPFX makeup to explore a wide range of creative practices from sculpture to performance art to stop-motion animation. Isabel expresses her story though the use of symbolism and visual metaphor as well as conventional narrative, using horror movie and steampunk imagery as an analogy for existential suffering. Isabel is drawn to film because it gives her the opportunity to create a magical immersive universe from which complex emotional experiences can be visually communicated. Butterflies is the second stop motion animation from director Isabel Peppard and producer Warwick Burton.
Filmmaker's note
Butterflies is a short stop motion animation that addresses some darker elements of the human condition. The things that truly mortify me are not vampires, werewolves and zombies, but rather, everyday things. The horror of waking up one morning and wondering where your life went, the horror of losing whole chunks of yourself on the road to adulthood and the horror of wondering dreamlessly through a colourless world. The universe of Butterflies is dark and symbolic. There are creatures that embody the extended mind of the main character (the butterflies) and rich fantastical environments representative of her shifting psychological landscapes. I chose animation for this story because it allows the viewer to be immersed in the imagery of the main characters emotional journey, a visceral and instinctive way to experience her story.
Notes
Sound Designer Michael McMenomy will be available for a Q&A after the screening.
Related links