1/1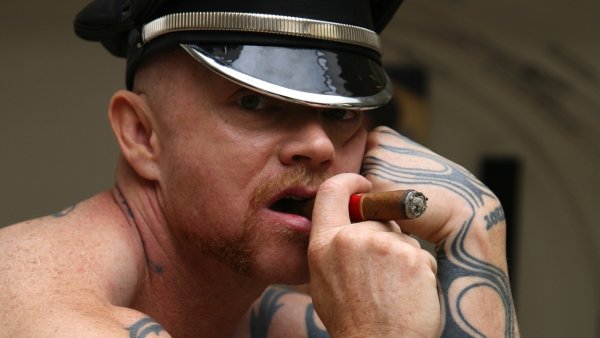 ---
MR. ANGEL
NY Premiere
United States, 2012, 70 min
Shooting Format:DVCam, HDV
Festival Year:2013
Category:Documentary Feature
Crew:Executive Producers: Dan Hunt - Cinematographer: Elayne Angel, Slawomir Grunberg - Editor: Janet Baus, Melissa Hacker - Composer: Don Di Nicola
Email:danhunt13@gmail.com
Synopsis
It's early morning in Mexico. Buck starts the day by feeding his seven dogs. Trailed by the pack, Buck takes us to his office, and, picking up photographs, he reveals his past. Buck was born female yet knew he was male on the inside. Even his parents raised him as a boy until puberty. That's when the conflict began escalating to drug addiction and suicide attempts. In this volatile period, he became an internationally renowned model, which only increased his gender conflict. He hit bottom when he was homeless and a prostitute. Buck fully transitioned to 'male' when he underwent a double mastectomy. He refuses phalloplasty because the surgery does not yield a functioning penis. 'I'm trying to change the belief that you need a penis to be a man. I'm a man, I just have a vagina. ' For 6 years, we've had exclusive access following his lofty aspirations of stardom in porn. Not completely aware of their child's notoriety are Buck's parents. It has taken them decades to come to terms with losing their daughter and gaining a 'Buck.' Their participation is a moving chronicle that reveals Buck's early history and throws light on the murky debate of Nature vs. Nurture. Mr. Angel seems sensational at first glance, yet this moving story packs a universal lesson of acceptance. It challenges basic notions about gender and sexuality, while exploring body image, addiction, and acceptance. It is a powerful chronicle of an amazing individual.
Trailer
About the director
Dan Hunt has created award-winning programming for national broadcast since the early 1990s. His work has broadcast on PBS, WEtv, Logo, NBC, heretv, and venues in Israel, Australia, Canada, Taiwan, Portugal, Spain and Germany. His work has been awarded the Gracie Allen Award given by AWRT, CINE Golden Eagle, Silver Angel Award, Freedom Award, Silver Plaque, N.A.M.E Media Award, Silver Telly and multiple audience awards. Hunt is a teacher in NYC and recently was the Executive Producer of the PBS series IN THE LIFE. He is a Soros Media Fellow.
Notes
Director Dan Hunt will be available for a Q&A after the screening.
Related links