Latest News: UPDATE: CaveDigger, a BFF 2013 East Coast Premiere, has been NOMINATED for an Academy Award in the Short Documentary Category.
1/1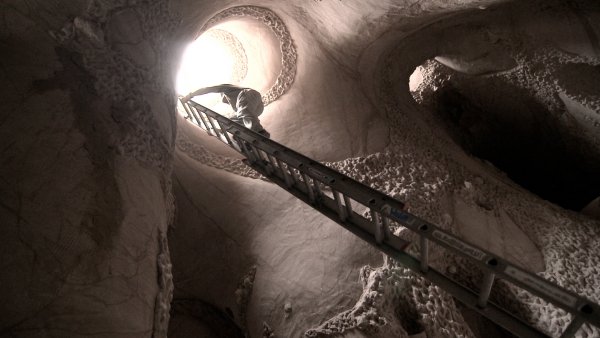 ---
CAVEDIGGER
East Coast Premiere
United States, 2013, 40 min
Shooting Format:HDV
Festival Year:2013
Category:Documentary Short
Crew:Producer/Director: Jeffrey Karoff - Cinematographer: Anghel Decca - Editor: Erin Nordstrom - Composer: Pete Min
Email:jkaroff@mac.com
Synopsis
Ra Paulette digs cathedral-like, 'eighth wonder of the world' art caves into the sandstone cliffs of Northern New Mexico. Each creation takes years to complete, and each is a masterwork. But patrons who have commissioned caves have cut off nearly all of his projects due to artistic differences. Fed up, Ra has chosen to forego all commissions to create his own Magnum Opus, a massive, secret and unauthorized, 10-year project.
Trailer
About the director
Jeffrey Karoff is a documentary and commercial director as well as a director of fundraisers for organizations like New York's philanthropic powerhouse, Robin Hood Foundation. Jeffrey honed his skills at UCLA, at American Film Institute's director's program, and as a founder of the director/actor workshop, Paradox Works. He first saw Ra Paulette's work in 2000 and was determined to bring it to life on film. It took years to find a way into the story, but in interviewing many of Ra's patrons he discovered Ra's universal struggle, the tension between artistic creation and funding.
Filmmaker's note
'Follow your heart' goes the common wisdom. It sounds ideal... but in Cavedigger, Ra Paulette not only demonstrates how to live with unshakable determination, but he also exposes the rough toll it exacts.
Notes
Director Jeffrey Karoff will be available for a Q&A after the June 6th screening.
Related links