1/1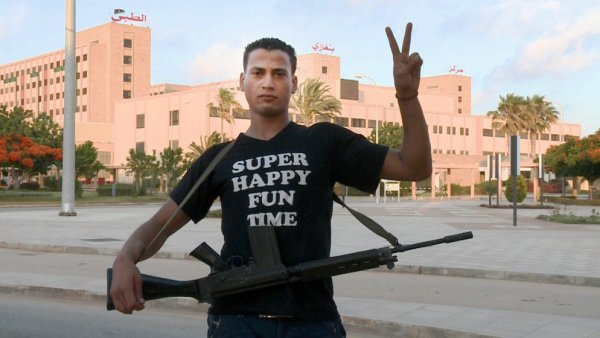 ---
MILES & WAR
US Premiere
Crew:Produced by: T&C Film AG/zero one film GmbH/Terz Film - Executive Producers: Susa Katz, Ann Carolin Renninger - Producers: Nicole Barras - Cinematographer: Johann Feindt, Pio Corradi - Editor: Stephan Krumbiegel, Florian Miosge - Composer: Mathias Vetter, Jan Tilman Schade
Email:tcemail@tcfilm.ch
Synopsis
Who are those people, who try to put an end to fighting and bloodshed in conflict areas, every day, again and again? A portrait of three men, who counter war and bombs with words. A personal view on today's conflicts, the endeavours to end them and the unusual occupation of private peace mediators.
About the director
Anna Thoma studied International Relations at the London School of Economics and the Institutefor International Relations in Geneva, graduating with a bachelor and a master. Realizing that her passion lies with non-fiction filmsand especially with social and political topics, she subsequently shot her first documentary film on street children in Brazil "Espera Menino". Her film was screened at the Human Rights Film Festival in Nürnberg. "Painful Peace", a portrait of four teenagers in Kosovo brought her the BR/Telepool Young Talent Award and a First Steps Nomination in 2008. From 2008 until 2011 she has worked as a videojournalist for the Centre for Humanitarian Dialogue which facilitated the exclusive access to the protagonists and the topic. In 2010 she received the Gerd Ruge scholarship of the Film und Medien Stiftung NRW for MILES & WAR. The director lives in Geneva and Berlin.
Filmmaker's note
The idea for this film originated in my personal involvement with the work. I have studied international relations myself and worked for HD Centre for more than three years. The protagonists and the profession of mediation became my every day life. This raised questions, which determined the film: What can really be achieved by dialogue? How can one turn foes to friends? What kind of people are mediators and what motivates them? And the longer I observed them at their work, I asked myself, how one can deal with the daily horror of war on a personal level. The film has no guiding theory, no ready-made point of view that wants to be confirmed or disproven. It rather documents my own quest. I want to observe war and the chaos of the conflict zones from a different perspective to get a better understanding. MILES & WAR is my personal insight into the business of war and peace.
Related links