1/1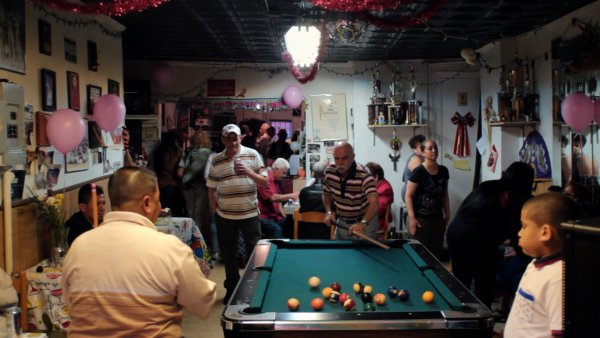 ---
TONITA'S
(Toñita's)
Brooklyn Premiere
Director: Beyza Boyacioglu & Sebastian Diaz Aguirre
United States, 2014, 20 min
Shooting Format:HDV
Festival Year:2014
Category:Documentary Short
WINNER: Brooklyn Pride Award
Crew:Producers: Beyza Boyacioglu, Sebastian Diaz Aguirre - Screenwriters: Beyza Boyacioglu, Sebastian Diaz Aguirre - Cinematographer: Beyza Boyacioglu - Editor: Beyza Boyacioglu, Sebastian Diaz Aguirre
Email:beyzabo@gmail.com
Synopsis
Toñita's dives into the microcosm of The Caribbean Sports Club in Williamsburg, Brooklyn. Known as 'Toñita's' because of its owner, Maria Toñita, the club is a social hub for longtime residents of the neighborhood. Revealed as the matriarch of this community, Toñita is devoted to sustaining the club "until she falls." Her colorful regulars reveal the gritty history of this once predominantly Caribbean neighborhood, as well as the club's resistance to the area's rapid gentrification. Toñita's is a love letter to Nuyorican culture and to Los Sures.
Trailer
About the director
Beyza Boyacioglu is a New York/Cambridge/Istanbul-based documentary filmmaker, video artist and curator. She curates 'Fiction-Non', a documentary series exploring narrative/non-fiction hybrid films, at Maysles Cinema in Harlem. Her work has been exhibited in venues including MoMA (New York), The Invisible Dog Art Center (Brooklyn), NoteOn (Berlin), and Sakip Sabanci Museum (Istanbul).
Sebastian Diaz is a Mexican artist and filmmaker, based in New York. Director of award winning documentaries, he co-founded the bulbo art collective, which produced a documentary format TV show broadcast in Mexico and the US about the Tijuana-San Diego border region. His work has been shown in ARCO (Madrid), The MAK Museum (Vienna), SMMoA (Los Angeles), InSite_05 (Tijuana-San Diego), amongst others.
Notes
Directors Beyza Boyacioglu & Sebastian Diaz Aguirre will be available for Q&A after the screening.
Related links