1/1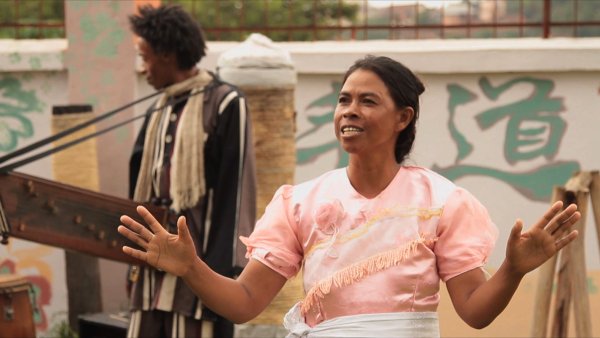 ---
THE MALAGASY WAY
(Ady Gasy)
US Premiere
Director: Nantenaina Lova
Cast:Joela Rejao Refaralahy, Florentine Razafiharisoa
Crew:Screenwriters: Nantenaina Lova - Cinematographer: Nantenaina Lova - Editor: Jeanne Moutard, Nantenaina Lova, Eva Lova-bely - Composer: Rejao Refaralahy Joela, Faly Milanto Rabearison, Roland Dieu Donnt Vah÷mbey Rabearison, Mario Reynald Mirana Rakotomalala, Edmond Rakotonanahary
Email:endemikafilms@gmail.com
Web:www.adygasy.com
Synopsis
The Malagasy Way is a poetic, proverb-packed tour of an alternative way of life central to Madagascar's culture and society. Rejecting the waste and overconsumption that plague Western nations, the film examines how the people of Madagascar have embraced a conservationist lifestyle of recycling, repurposing and self-reliance in the midst of a global economic crisis, using ingenuity, not underdevelopment, as their inspiration. Structured as a Kabary, the Malagasy traditional oratorion, this documentary uses music, theater, folk tradition and metaphor to create a unique portrait of life in Madagascar.
Trailer
About the director
Nantenaina Lova was born in 1977. He grew up in Antananarivo at the time when there was rationing by the Socialist regime. An unforeseen and random series of events led him to leave his country in 1999 to undertake sociology and humanitarian studies in France. When he returned to Madagascar from 2003 to 2005, he became a newspaper journalist. In 2006, he joined the ESAV film school in Toulouse. His short films (documentary and fiction) are rooted in the culture and daily life of the Malagasy. His 'Endemika Films' production company, co-managed by Eva Lova, is currently developing the production of films by other Malagasy directors who participate in a new boom of independent Malagasy cinema.
Filmmaker's note
With this first feature length film, Lova Nantenaina wants to represent poverty the way he experienced it as a child: a daily life where difficulties and joie de vivre are intermingled.
Related links