1/1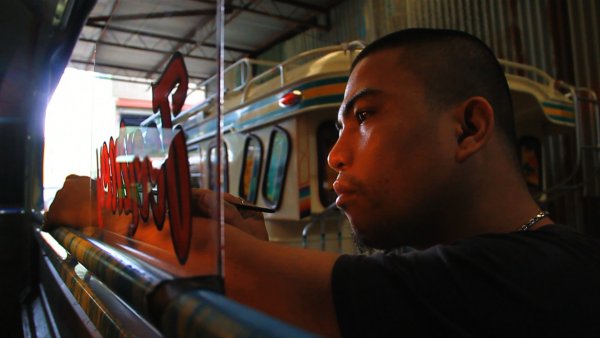 ---
JEEPNEY
East Coast Premiere
Crew:Producers: Esy Casey, Sarah Friedland - Cinematographers: Esy Casey, Sarah Friedland - Editors: Esy Casey, Sarah Friedland
Email:esy.casey@gmail.com
Synopsis
Jeepney is a lyrical exploration of the Philippines through its most popular form of mass transportation: vividly decorated former WWII military jeeps. Unlike mass transportation in many parts of the world, jeepneys are not a government service but are individually operated by their drivers, who manifest their identity, values, and dreams by painting and decorating their vehicles. Set amidst nationwide protests against oil price hikes and cut to the rhythm of the streets, Jeepney provides an enticing vehicle through which the rippling effects of globalization can be felt.
Trailer
About the director
Esy Casey is a cinematographer who has shot for films including THING WITH NO NAME (2008, Nominee Best Documentary at the Los Angeles Film Festival, Haskell Wexler Prize for Best Cinematography); BORN TO FLY (2014, with DPs Albert Maysles + Kirsten Johnson); and BEFORE YOU KNOW IT (2013). Her work has received awards from The Princess Grace Foundation USA, The JustFilms Ford Foundation Initiative, and The Center for Asian American Media. Her films with Sarah Friedland have been featured on the sites of Filmmaker and Art Asia Pacific Magazine, and her directorial debut JEEPNEY will air on PBS next year. Esy and Sarah are currently in production on a film about unique ways that people choose to memorialize themselves in death.
Filmmaker's note
Movement, in its many instances, is a common thread through my work: the metamorphosis from natural to developed land, the migration of labor, and the expansion of time and distance between families and social classes. In this rapid movement towards economic progress, centuries of traditions that tie people together are being lost. By documenting this point of unraveling, I hope to render these losses visible. An inquisitive cinematography style amplifies the quiet details of a space, an object, or the gestures and expressions of a person that tell without words. The concept of transience is communicated through the abstracted fields of color of a swipe, and the complexity of a dying skill is carefully appreciated in slow motion sequences. I am interested in the lasting effects of war and colonial presence in the Philippines, and its erasure of culture through the destruction of cities, lives, and centuries of cultural identity, and how that loss affects the generations that follow. The jeepney struck me as a vestige of war, but also the last place in the modern cityscape where ancient patterns and images survive alongside neon hues and celebrity, religious, and family portraits.
Notes
Director Esy Casey and composer Brian Time will be available for Q&A after the screening.
Related links